First China, Now India: Putin's Tilt to Asia
President Putin puts on the hard sell in Asia.
December 10, 2014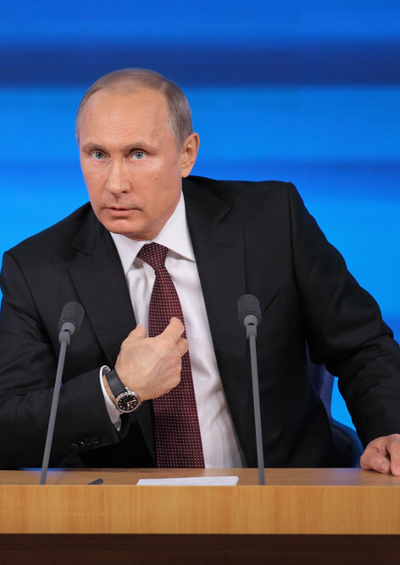 Vladimir Putin (Credit: ID1974 - Shutterstock.com)
When it comes to the much debated and much promised tilt to Asia, it seems that President Vladimir Putin is winning the game.
In the last six months, he has signed two major long-term gas supply deals with China. Major new pipelines are to be built from East Siberia – funded by the Chinese. In total, Mr. Putin has snapped up at least 20% of the Chinese market for the next two decades.
His next stop is New Delhi to meet the new Indian Prime Minister Narendra Modi. Another major energy deal will be signed, which will involve both Rosneft, Russia's main oil producer, and Gazprom.
While the details are not yet public, it seems that Mr. Putin will be signing a deal which gives Russia a key strategic role in meeting India's energy requirements for many years to come.
Mr. Putin starts with a weak hand
Without a doubt, Russia's economy has been much damaged by the fall in oil prices. There also is the risk of further damage from the creeping impact of sanctions designed to punish Russian behavior in Ukraine. The ruble falls day by day and there has been a large exodus of capital from Russia.
The Russian economy remains dependent on oil and gas production and exports. The state budget is just beginning to be adjusted downwards, as it becomes clear that revenues in 2015 will not match the planned figures – all of which were based on world oil prices of $90 a barrel or higher.
This is a weak hand – but President Putin is playing it well. He knows the global energy market better than any western leader and has seized the opportunity. That is why he is signing large-scale, long-term deals with two of the very few countries in the world that are anticipating rising demand and hence an increasing import requirement.
From Russia's perspective, the deals sacrifice price to market share. Mr. Putin is more interested in securing export volumes than in the price paid. As the Chinese and the Indians well understand, the world has moved into a buyers' market.
There is more supply than demand. With the added ingredients of political support and, certainly in the case of India, the added bonus of sales of defense equipment, Mr. Putin is moving to secure his objective by making energy trade part of much bigger bilateral relationships.
In neither the Chinese or Russian case are the buyers frightened by the prospect of dependence on Moscow. They will have other supply lines and must be well aware that in a market of surplus gas, Russia cannot afford to risk its future by using supply as a political tool.
Asia is the market of the future
However, at a moment of strategic weakness, Moscow is in no position to impose political terms – a fact which makes the deals all the more attractive to the buyers.
Mr. Putin's tilt to Asia is rational for a resource-dependent economy. With North America soon to be effectively self-sufficient, Asia is the market of the future.
Mr. Putin's approach – cool and logical, reflecting the realities of the new global economy – contrasts with the complexities of the U.S. position. That position remains mired in past commitments to old allies such as Taiwan and in domestic political concerns over issues such as human rights. That is a topic one can bet President Putin never raises on his foreign trips.
More serious, though, is the continuing American reluctance to accept that the world as a whole has not become a U.S. sphere of influence. China, and now India, are significant powers which have to be treated as such. Lecturing to others is not a good basis for an effective foreign policy.
Mr. Putin goes to New Delhi not as a leader of a superpower, but as a salesman. As a salesman, you have to start by using what the customer wants and working to provide whatever is required.
To succeed in the tilt to Asia, the United States would do well to start by listening and by treating others as sovereign powers with interests of their own. If it doesn't, it may find that the world is starting to organize itself without the United States.
More on this topic