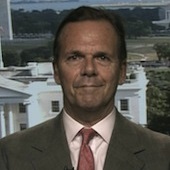 Principal, TheGeostrat.com LLC
Robert Hardy is the principal at TheGeostrat.com LLC. He has 25 years of experience in global equity, currency, futures trading and market making.
From 1995 to 2010, Hardy was a New York Stock Exchange specialist where he was in charge of trading over 130 non-U.S. stocks in New York and in 26 foreign local markets. He was Managing Director for International Trading at LaBranche and Company from 2006 to 2010. From 1999 to 2006, he was director of International Trading at Fleet Bank, which was later purchased by Bank America.
Mr. Hardy ran his own arbitrage company, trading international oil companies in New York and in their local markets from 1990 to 1995. He began his specialist career as a partner at M.J. Meehan in 1995, later purchased by Fleet.
He began his career as a currency trader in Hong Kong in the early 1980s and then worked as a trader in New York and Chicago futures in the late 1980s. He became a member of the New York Stock Exchange in 1990.