Is Germany's Der Spiegel Racist?
In the latest case of self-flagellation, the ever more twisted German left, in its filter bubble, now accuses Der Spiegel for an anti-Chinese racist cover.
February 6, 2020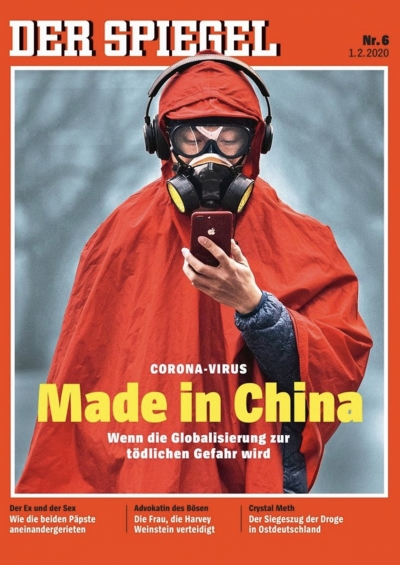 Since it was founded in 1946, Der Spiegel, Germany's leading news magazine, has had its fair share of scandals. But the latest accusation, in which it finds itself accused of anti-Chinese racism for its latest cover on the Coronavirus, certainly takes the cake.
The headline splashed across the magazine's current cover reads "Made in China." The subtitle states "When globalization becomes a deadly danger."
Der neue Spiegel ist da! Auf dem Titel: Made in China – Wenn die Globalisierung zur tödlichen Gefahr wird. Das und mehr ab morgen am Kiosk und ab jetzt hier: https://t.co/mdLGH9alMx pic.twitter.com/lf3hsJfzPJ

— DER SPIEGEL (@derspiegel) January 31, 2020
Did Der Spiegel blame China?
Logically and grammatically, that choice of words seems unassailable. After all, the magazine cover blames globalization (and thus the physical interconnectedness of people). But not China.
But that hasn't kept the leftist filter bubble in Germany from raising the racism charge with hashtags such as #ChinaRacism.
This is all the more perfidious as the Chinese people themselves have no problem in blaming their government. China's citizens know full well that any oppressive communist regime relies on an obsessive level of control over all information flows. They are suffering for it every day.
To wide swaths of the Chinese population, the causality between information control and the spread of the coronavirus is therefore undeniable.
As regards the control-freak ways of the Chinese Communist Party (CCP), its desire for absolute information control comes back to haunt it now in full force. The CCP's secretive ways hollows out what it wants most – stay in control.
When globalization isn't good enough
When it created its magazine cover, Der Spiegel's editorial team was certainly aware of potential racism charges. It therefore chose what it considered the correct way of framing the issue, referring to globalization as the culprit.
Until recently, that reference would have triggered all the right excitement reflexes. From big bad globalization, the journey inside the filter bubble of the German left would have moved on to the big bad Americans, proto capitalism and the all-purpose villain of neoliberalism.
Tragically for Der Spiegel's editorial team, globalization evidently is not enough of a culprit any longer. At least in today's Germany, unsubstantiated charges of racism are taking its place.
Masters of deliberate misinterpretation
Intriguingly, Der Spiegel currently finds itself caught in the same web of false accusations as
the deputy chairman of the CDU/CSU parliamentary group, Carsten Linnemann, was last summer.
He had advocated that pre-schoolers from migration backgrounds who have a large language deficit should receive extra language classes before starting primary school.
This suggestion is as logical as it is compassionate and inclusive. If anything, the CDU politician was concerned with ensuring that these children can start their school careers with a fair shot at eventually graduating with decent prospects.
Linnemann then and Der Spiegel now found themselves in the crosshairs of the "racism charge machine."
Perverted group identity games
Which makes one wonder: Why does this occur? Evidently, Germany's extremely self-righteous leftist filter bubble is hooked on a collective form of self-flagellation. The purpose of this grotesque blame game is to affirm, in these troubled times for the global left, a distinct group identity.
That is why the current racism charge leveled against Der Spiegel in the context of its coronavirus cover is clear evidence of the desperate need in Germany's leftist social media bubble to reassure itself of its own identity in times of the group's fading political fortunes.
As it happens, Der Spiegel serves as the useful idiot for the German left to trigger the racism charge at every possible (and mostly impossible) occasion.
Why not go after real racism?
Germany, like most other countries, has a problem with racism. But anyone who is serious about combatting racism in earnest needs to make sure to go after the real – and not the imagined – threats presented by it.
There certainly is plenty of racism to be combatted among Germany's hard-core right-wing extremists, and its no less radical Islamist racists.
The greatest irony of all
Perhaps the greatest irony in all of this is that Der Spiegel maintains a stable of columnists that, too, make it a popular sport to sense racism in every corner.
As Der Spiegel has just found out to its chagrin, positioning yourself as the front organization of the very active racism charge spiral in Germany has its limits. Evidently, that does not protect a media organization from being charged with the very same racism virus which some of its own columnists love to spin on.
More on this topic