China Vs. the West: An Epic Global Battle Is Brewing
Could Magnitsky-style social media campaigns challenge authoritarians like Putin and Xi?
March 29, 2021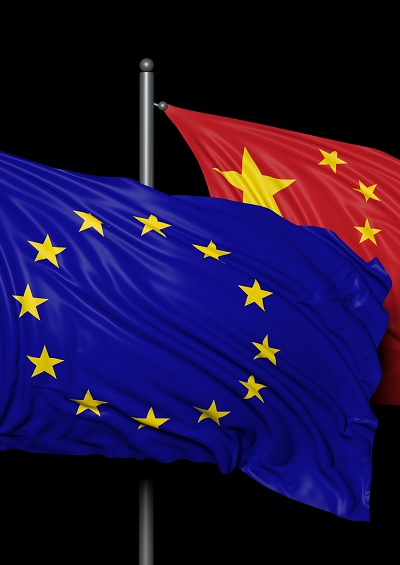 Credit: Gts - Shutterstock.com
Western democracies are struggling with finding an effective way of dealing with China and Russia — and their ever more authoritarian ways.
And what is the best solution? Simply acquiesce, or confront, contain, challenge – or even cut trade and create sanctions with real teeth?
Tit for tat
Beijing has reacted angrily to tiny, first-step sanctions imposed by the United States, the EU and even the UK under Boris Johnson — who considers himself a "fervent Sinophile."
So far, four low-level Chinese Communist functionaries have been named in connection with oppression of Uighurs and banned from visiting Western countries or owning assets in the West.
In response, Beijing has lashed out at European lawmakers. These include Tom Tugendhat, the UK MP and chair of the House of Commons Foreign Affairs Committee, and prominent MEPs like Germany's Green MEP Reinhard Bütikofer and the socialist French MEP Raphael Glucksmann. They are now blocked from entering China.
In response to those actions, the Chinese ambassador to France has been called in by the Quai d'Orsay.
Ending the trade-über-alles approach?
The Chinese reaction almost certainly kills any prospect of European countries and the European Parliament ratifying the EU-China Foreign Investment Agreement. As recently as the end of 2020, it had been hailed as a break-through for business.
Instead, Beijing's attacks on MEPs seem to have one guaranteed effect: It ends the trade-über-alles approach of Merkel, Macron and Johnson.
U.S. side not mincing any words
In the United States, Joe Biden is certainly not mincing any words. He agreed on TV that Putin is a "killer." And during his presidential campaign, Biden called the Chinese dictator Xi Jinping a "thug."
Now the Atlantic Council, a platform for establishmentarian thinking on U.S. foreign policy, has published "The Longer Telegram."
It calls for Xi's replacement by a "more traditional form of Communist Party leadership" which would "operate within the existing U.S.-led liberal order."
Delusional overreach?
The anonymous author of the "Longer Telegram" urges the U.S. government to build a new "Quad" alliance with India, Japan and Australia.
In addition, the author prescribes a major détente between Japan and South Korea — in order to get the two countries to become friends and fall in behind Washington.
In addition, Washington should make Russia an ally against China. This is the geopolitics of regime change in any language — and not far off a declaration of war by encirclement.
European mumbling
Across the Atlantic, European policymakers do not know how to react. China is now a bigger export market for the EU than the United States.
Moreover, Germany's two 21st century chancellors, Gerhard Schröder and Angela Merkel, subordinated liberal foreign policy values of promoting democracy and human rights to maximizing exports to Russia and China.
The Sikorski Plan
Enter the Sikorski Plan. Radek Sikorski, Poland's former Foreign and Defense Minister, now an MEP, just published a paper setting out a new EU strategy for China. It was written for the European Parliament's biggest political group, the center-right EPP, of which he is a part.
Sikorski, known to be one of the smartest and courageous minds in the field of European foreign policy, argues that the EU should "counter Chinese disinformation campaigns and imposed narratives."
He is right. He points out that the EU Commission's 2019 China strategy — which characterized China "as a cooperation partner, a negotiating partner with conflicting interests, an economic competitor, and a systemic rival" — is now out-of-date.
China's wolf warrior diplomacy
China's "wolf warrior" diplomacy, its violation of trade rules, its aggression in Hong Kong and against Taiwan all show a China looking to pick fights.
In several countries, so-called Magnitsky Laws now apply to Chinese officials named as responsible for genocidal oppression of Uighurs and other human rights violations.
The idea is to ban their entry into the West or ownership of assets in democratic capitals. This is the approach that was, for example, taken with Putin's agents who carried out assassination attempts against Alexei Navalny — or in England.
A toothless exercise?
However, the four mid-rank Chinese officials named under Magnitsky laws notably have no homes or known assets in the West.
And, in contrast to Washington, Boris Johnson has refused to sanction Chen Quanguo, the brutal Chinese Communist head of the Xinjiang region where Uighurs are herded into camps.
This is notably the same policy developed when he saw to it that Tibetans were exposed to Nazi-style "Gleichschaltung" — by forcing everyone to accept a totalitarian outlook and submission to the ruling party.
Helpless democracies?
But are the democracies so utterly helpless? A new proposal being discussed is to launch Magnitsky-style social media campaigns.
They would be directed against Chinese or Russian politicians and officials who violate human rights, or propagandists who pump out lies and disinformation using "wolf warrior" diplomacy to sow division in the democracies.
Toward SM reciprocity?
The idea is for the EU or the United States to create their own social media "truth warriors." They would be charged with spreading news on social media outlets read by Chinese or Russian citizens about the bad behavior of their own leaders.
This approach would definitely have more impact than denunciations in western capitals. The U.S. government is probably up for a Magnitsky social media campaign against Xi and Putin.
EU and courage: Don't count on the Germans
But will the EU or UK have the will and the energy to act and take the struggle to their opponents? Sadly, based on past experience, the odds are they will just sit around wringing hands.
The establishment parties in Germany, the CDU/CSU and the SPD, tend to warn at all possible and many impossible moments against the danger of entering into "escalation spirals."
To them, it seems, democratic nations must render themselves defenseless — as long as they sell any commercial goods in the authoritarian destinations in question.
More on this topic
Read previous
Merkel's Fall from Grace
March 25, 2021