Just the Facts: Shipping Out of Afghanistan
How Afghanistan continues to ensnare the United States.
November 17, 2013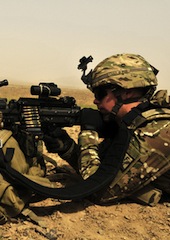 Kandahar, March 2013. Credit: PJF - Shutterstock.com
1. The U.S. military withdrawal from Afghanistan will be complicated and costly.
2. There is an estimated $22 billion in U.S. military gear in landlocked Afghanistan.
3. The most sensitive equipment, such as weapons and communications systems, must be flown out by air, the costliest option.
4. U.S. officials estimate the U.S. will have spent $6 billion over about three years to remove what needs to go home by a December 2014 withdrawal deadline.
From U.S. Tests a Risky Route for Shipping Gear Out of Afghanistan by Nathan Hodge (Wall Street Journal)
More on this topic
Takeaways