Greece's Alexis Tsipras: A Remarkably Solid Politician
Alexis Tsipras admired Hugo Chavez. Then he became Greece's Prime Minister. Now, he's Washington's good friend.
October 18, 2018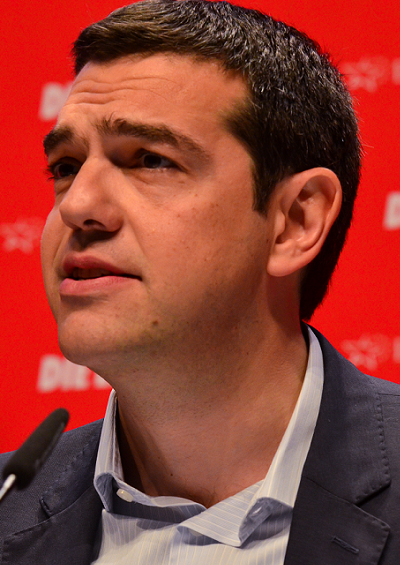 Credit: Blömke/Kosinsky/Tschöpe - Wikimedia Commons
If you believe the conventional wisdom of many commentators on Europe, there is a real risk that the illiberal, immigrant-hating populist right is taking over just about everywhere.
In one corner of Europe, though, one of the most left-wing parties ever to win government power is holding its political ground firmly.
Beating early expectations, the Syriza-led administration under Alexis Tsipras in Greece has delivered stable and even at times competent government. It is now in its last year of government and must face the voters next year.
Tsipras: Delivering solid government
The Syriza government has its share of venality and low, dirty politics – and, crucially, has not been able to reinvent Greece. But one must relate Syriza's performance to the rampant clientelism, cronyism and downright corruption that disfigured Greek politics historically — and in the decades between entering the European Community, now Union, and the crash a decade ago.
If one factors in that millions of Greeks have been pauperized over the past decade, the Syriza government has been stable.
Moreover, for all of Vladimir Putin's efforts to pull Greece into his camp, Syriza's is the first Greek government in decades willing to stand up to the Kremlin.
Tsipras "a wannabe Chavez"?
How has this happened? In January 2015, the Wall Street Journal's Michael Casey described the Syriza prime minister, Alexis Tsipras, as "a wannabe Chavez" who would "forge close ties with Russia."
No doubt, Tsipras's strident leftist populism and furious denunciations of the corrupt way Greece has been governed by the main left and right parties helped him win power in 2015.
But that was the old Tsipras. Soon enough, the new Tsipras emerged. He dumped his initial finance minister, the anti-Brussels demagogue Yanis Varoufakis, and accepted the Realpolitik of Europe.
Tsipras realized that the voters and governments in Germany, the Netherlands and Nordic Europe were not ready to hand over taxpayers' money to bail out Greek politicians, who, by Tsipras's own political account, had badly mismanaged public spending, especially after Greece got access to a bottomless pit of cheap Euros early this century.
As the Paris-based Greek political scientist, Yorgos Prevelakis, writes in a new book "Who are the Greeks?" — Greece from Ottoman to EU times has always been based on rent-seeking.
The country's economy was never modernized. The most successful sector, the world-dominant Greek shipping industry, made its money on the high seas, and notably not in developing domestic businesses over the decades inside Greece.
Greeks sought public sector jobs and politicians granted planning and other permissions on the basis of being able to offer jobs to voters. Syriza has no answer to this eternal Greek problem and has simply adopted the old party system of jobs for votes.
Denouncing Brussels and the IMF
The first year of the Syriza government was lost as Yanis Varoufakis appeared on television and at leftist rallies all over the world denouncing Brussels and the IMF. It made for good appearances.
But even though there was a strong case for writing off Greek debt, insulting or patronizing every finance minister from a creditor country as well as every EU and IMF official was not the way to achieve this.
EU officials reckon Varoufakis cost Greece a year's worth of economic growth. Now finally, the long agony is over and Greece has exited the EU's supervised bail-out surveillance.
The era of the PIGS – Portugal, Ireland, Greece and Spain – i.e., the four nations most damaged by the crash a decade ago is over. All are still in the EU and using the Euro.
"Grexit" was the buzzword in the Wall Street Journal or Financial Times a few years ago. Yet, it is Brexit, not Grexit, Europe is dealing with now.
But the damage has been done. The best and the brightest of Greeks have already left to find jobs elsewhere. Greece is becoming old. Greek families have 1.46 children, compared to 1.79 elsewhere in Europe.
No Putin lover
Tsipras has been bold on foreign policy, moving away from a traditional Greek softness on Russia to expelling Russian diplomats.
That happened when they were caught trying whip up opposition in Greece to Tsipras's bold and innovative diplomatic coup of signing a deal with the Macedonian government in Skopje over the nation's name.
Tsipras showed far more maturity than his predecessor as prime minister of Greece (up to 2015). New Democracy's Antonis Samaras, as a young foreign minister in 1989, whipped up Greek nationalist hostility to the idea of the Skopje republic of Macedonia joining the EU or NATO like other ex-communist republics.
Greek Macedonia is bigger in territory and population than the Slav-Albanian ex-Yugoslav republic. Samaras wanted to win Greek nationalist votes and preferred that populism to helping stabilize the Western Balkan region after the disaster of the Milosevic wars.
Tsipras not only ditched this policy despite howls of outrage from Greek rightists and nationalists. More significantly, he also expelled two Russian diplomats and declared other Russians unwelcome in Greece.
The new name of the Skopje-run country is to be "North Macedonia." There is opposition in Athens and Skopje from conservative nationalists, but observers think the name change will go through.
That way, Greece gets an EU and NATO member on its northern border, and Russia has been held in check in the Balkans.
An "excellent ally"
Putin's attempts to stop Tsipras from reversing the previous Greek non-recognition of Macedonia failed. U.S. Defense Secretary Jim Mattis says that Greece under Syriza is a "solid" and "excellent" ally.
Alexis Tsipras has come a long way since the days when he identified himself with Hugo Chavez and denounced Washington and Brussels.
In addition, in contrast to the anti-immigrant populism whipped up by nationalist politicians in Italy, Greece has received score of thousands of refugees from the destroyed states of Iraq, Syria and Libya.
Greece has not descended into the ugly hate language against refugees from Italian politicians like Matteo Salvini.
Reelection in doubt
Despite his solid performance, his track record may not be enough to keep Tsipras as Prime Minister of Greece next year when elections have to be held. Opinion polls have Syriza losing.
Even so, Tsipras remains the most commanding and skilful politician in Greece. Syriza remain a small party. It basically is a one man show, similar to Andreas Papandreou who created and headed the socialist PASOK party and was twice prime minister in the 1980s and 1990s for a total 11 years.
When PASOK disappeared, it was assumed that left politics was over and finished in Greece. Alexis Tsipras is proving that wrong.
Alas, the reform and modernization of the Greek state and its economy has yet to happen.
More on this topic