Photo Essay: Havana's Favorite Mechanic
A Cuban mechanic makes the most of the meager supplies Havana has to offer.
July 5, 2015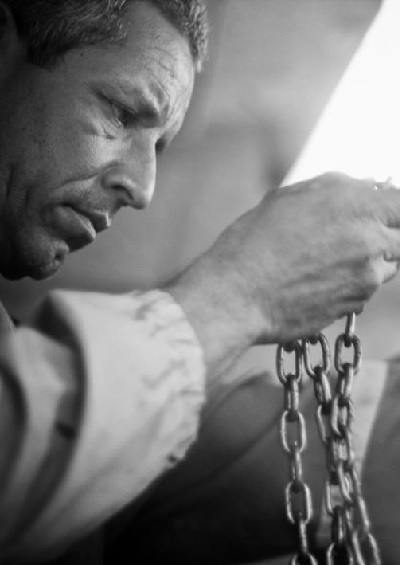 Jorge runs a workshop repairing cars, engines and other machinery in a quiet residential neighborhood on the outskirts of Havana, the Cuban capital.
Until the 1990s, he worked at a state-owned garage. Following the collapse of the Soviet Union and the ending of its economic subsidies to Cuba, the government reluctantly legalized self-employment. Jorge left his job to set up his own business.
In a country where supplies of mechanical goods and spare parts are in acutely short supply, he and his workers have acquired a reputation for resourcefulness and ingenuity in fixing and adapting equipment.
Running a private business makes Jorge better off than most of his neighbors, nearly nine out of ten of whom are employed by the state on low wages. He spends much of his extra money on helping his son, a talented dancer, travel overseas with his ballet academy.
Text and photographs by Rebecca Radmore
---
---
---
---
Rebecca Radmore is a documentary photographer and visual story-teller. Having studied Latin American studies at University College London, she was awarded a scholarship to study documentary direction at the EICTV Film School in Cuba before later moving on to gain a Masters in Documentary photography and photojournalism at London College of Communication. She recently returned from an artist's residency at Objectifs Centre for Film & Photography in Singapore where she developed long-term visual research on beauty and skin tone in contemporary society. This was followed by a brief stint working for the leading photographic agency in Botswana. Currently she is freelancing in the United Kingdom while developing ideas for her next project in Cuba.
See more of Rebecca Radmore's work here.
The Other Hundred is a unique photo-book project aimed telling the stories of people around the world who are not rich but who deserve to be celebrated.
The Other Hundred Entrepreneurs: 100 Faces, Places, Stories — the second volume in The Other Hundred series — focuses on the world's everyday entrepreneurs. It captures the reality that small and medium-sized businesses, rather than tech billionaires or elite MBAs, contribute the majority of the world's jobs, including half of all jobs in Africa and two-thirds in Asia.
The book offers an alternative to the view that most successful entrepreneurs were trained at elite business schools. Here are people who have never written a formal business plan, hired an investment bank, planned an exit strategy or dreamed of a stock market floatation. Some work for themselves, others employ a few people, still others a few hundred.
The book's 100 stories were chosen from a pool of 10,000 images shot in nearly 150 countries. The book is published by Oneworld Publications in London and is available in bookstores worldwide and online.
More on this topic
Takeaways