India: When Populism is Not Sustainable
Why is the Delhi's Chief Minister Kejriwal's popularity plunging?
May 23, 2015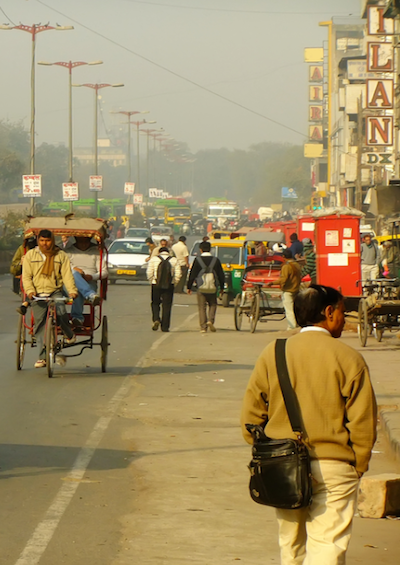 Credit: Don Mammoser - Shutterstock.com
The Kejriwal government in Delhi is coming across as populist, as anti-reform and as organized against the private sector. Add to this its lack of administrative experience and it appears ham-handed at doing what it wants.
The result is that inept execution warps even good intentions. This matters all the more as this government already had a brief stint in power (from December 28, 2013 to February 14, 2014).
Given all that, it is puzzling why Delhi Chief Minister Arvind Kejriwal and Deputy Chief Minister Manish Sisodia seem bent upon wasting time and political capital on burnishing their populist image. There are, after all, still more than four long years to go before elections.
That Mr. Kejriwal looks to the common man for his support is welcome. After all, more than 40% of Delhi residents live either in slums or in slum-like colonies. But more than "freebies" — like cheap power and free water — what each of these "slum dwellers" really wants is a job and a realistic prospect for a better life for their children.
Generating new jobs
Generating one million "good" jobs in Delhi over the next four years is a colossal task and the Chief Minister would do well to focus his energies on this task. He will need the active collaboration of the private sector to achieve this goal.
The continued availability of reasonably priced, good quality electricity will be crucial, so tinkering with what is working well (privatized electricity utilities) is dangerous and irresponsible.
It is all very well to grandstand by disallowing the entry of multi-brand retail outlets in Delhi.
In any case, these space-intensive, "deep pocket" entities which seek to provide a "complete shopping experience" should be located in, say, Gurgaon where commercial space is cheaper. 
But what does the Delhi government plan to do to "clean up" the existing local market places and make small shopkeepers more competitive?
Why not create new jobs by servicing public spaces better with private security? Or have better overall maintenance? Sufficient toilets? Rest spots?
How about green spaces and parking facilities to enhance the shopping experience? The popular Dilli Haat market, started two decades ago is one such example.
Make the rich pay for using public road space
Delhi has around two million cars. Most of them are parked overnight on the streets and adjoining sidewalks. Why not charge car owners for this privilege?
A flat charge per car of 500 rupees ($7.90) per month would yield an additional revenue of 1000 rupees crore ($157 million) per year (rule-of-thumb basis), equal to 3% of the 2015-16 budget estimate of 35,000 rupees crores ($5.5 billion).  
The incremental proceeds could be used, in the area where it is collected, to provide and maintain roads, drains, sewage systems, streetlights and water supply systems.
More important, the fee acts as a disincentive to own multiple cars, encourages owners to dump old, unused cars, and free up public parking, cycling and walking space.
Public transport
Ensuring a 24-hour x 7-day public transportation system, which is secure and accessible within a maximum ten-minute walk from any urban mohallah (community) is an enormous challenge. It goes well beyond just buying more buses.
Meeting this public transport infrastructure gap will hurt one of the Chief Minister's support groups the most — the 100,000 auto rickshaws who provide an inefficient, insecure and costly substitute for public buses.
But if he implements such a bus system well, he can garner the support of all those who cannot afford private motorized transport and depend on the bus system. Sixty percent of the 25 million residents of Delhi fall into this category.
There are still more than four years to go for the Delhi elections and it is sad to see the Kejriwal government not using this time to deliver substantial gains to Delhi citizens.
Grandstanding by "taking on" the Government of India via the Lt. Governor is unlikely to get votes. Delhi is not a city that tolerates "whiners."
BJP municipalities provide no benchmark competition
The only silver lining for Mr. Kejriwal is that the three Municipal Corporations, all controlled by the BJP, are even worse. It is shocking that the Modi "magic" has not brushed-off on its local worthies. The municipalities remain mired in inefficiency and corruption.
Far from setting governance standards that would force Mr. Kejriwal to rev up his game and perform better, the Delhi municipalities are making it absurdly easy for Mr. Kejriwal to "shine" by comparison. This is shortsighted of the BJP and bad for Delhi citizens.
End game
Mr. Kejriwal has already lost the support of the middle class. Sadly, he is in danger of losing the poor also, unless he takes service delivery beyond the level of rhetoric. He knew the limited character of the Delhi government before he entered the contest.
If he now feels that his power is constrained, he has to wait till 2017, when he will get a chance of consolidating his power base in the three municipalities.
Alternatively, he has to wait till 2019, in the hope of getting a congenial partner at the national level, who will cede fuller powers to the Delhi State.
Either way, he has a clear three years to focus on improving what lies squarely within his sphere today — electricity supply, roads, public lighting, water, drains, sewage collection and treatment and social services. Even this seems a handful, given the shallow bench strength of his party, the AAP.
Populism is the downside of political contests in a poor democracy. The big fear is that populism could trump substantive gains for citizens in India's fractured polity.
More on this topic
Takeaways
Mr. Kejriwal has already lost the support of the middle class. Sadly, he is in danger of losing the poor also.
Kejriwal has three years to focus on what lies in his sphere today -- improving public utilities and social services.
Grandstanding by taking on the Government of India is unlikely to get votes. Delhi does not tolerate whiners.