Making Sustainability Pay
Is the global recession an opportunity for countries to start investing in a resource-efficient future?
November 28, 2012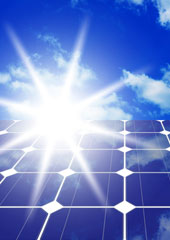 Credit: Sergey Panychev/Shutterstock.com
We are currently faced with a threefold, long-term challenge — sustainability, inclusive growth and resource efficiency. We are also faced with an additional short-term challenge — a severe economic recession that, in many developed world countries, has caused investment to tank to record low levels.
<!-strCallout1->Yet we need to understand that this ostensible calamity actually affords us a major opportunity. Record levels of private saving have been squirreled away into risk-free assets offering mostly negative real interest rates for up to 20 years.
The challenge is to channel those savings into investment in productive assets that offer a positive return and leave behind a lasting legacy of resource-efficient infrastructure. This would immediately boost our economies by simultaneously creating jobs and generating investment flows.
We could use the current opportunity to start the transition to the resource-efficient future that is going to define the 21st century. Doing so will require a long-term, credible policy framework that people can believe in — and that investors, entrepreneurs and innovators can commit private savings towards.
It is inevitable that, by the second half of the 21st century, the world will have transitioned to a resource-efficient economy that is pretty close to carbon neutral.
This will either happen because there will be an active policy effort to raise the price of carbon emissions and scarce resources (in order to incentivize a change in producer and consumer behavior and induce new technological innovation) or, in the absence of such a response, because the price of raw materials and fossil fuels continue to rise.
The latter will be driven by the growing economies of the developing world which rightly seek to raise household consumption levels closer to that of the developed world, putting rising pressure on finite resources in the absence of resource-efficient alternatives.
Many key economies, businesses, regions and cities across the world — from Europe and Korea to China and Brazil — have understood and accepted this challenge. All of them see real long-term value and commercial profitability in resource efficiency and providing resource-efficient goods and services. They understand that investment flows to the pioneers of new technological revolutions.
<!-strCallout2->The question then becomes not where are we going or what does a social environmentally sustainable economy look like, but what is the pathway? How do we manage the transition to that inevitable end-state?
I think making it clear that the longer we delay the higher the costs will be is critical in relaying the right message to the public-at-large.
This is not even so much about irreversible climate risks and running down fast-depleting resources which we cannot replace. Rather, it is that by inaction or incorrect action, we are locking ourselves into infrastructures, technologies and behaviors that are much more costly to reverse in a last-minute scramble to address mounting and irreversible environmental issues.
Committing credibly to renewable technologies affords opportunities to learn from the experience so that costs come down very quickly.
For example, we have seen the cost of solar photovoltaic systems fall by a factor of five over the last five years. They are now expected to become competitive with conventional fuels this decade. Big players in China, America and Europe are increasingly seeing solar PV as a commercially viable enterprise and are committing considerable resources to it.
However, we have not yet reached that critical tipping point where the risks of early moving are smaller than those of holding back and carrying on as we have been. But if we take a decisive step forward, we can reach the point where being a late-mover in an inevitable transition is a great risk.
Many businesses already recognize that green investments need to be made, but are waiting until the policymakers get their act together before committing their funds. When they do, it will lead to healthy competition among companies to design and profit from the new economy.
Of course, these necessary changes will be disruptive. There will be winners and losers and a degree of dislocation. The process will not be "win-win" for everyone.
<!-strCallout3->What should help Americans to overcome their hesitation is the fact that we are close to the point where it is commercially dangerous not to be moving towards resource efficiency because you will lose money.
Many American innovators and entrepreneurs recognize this and are concerned about the influence powerful lobbies are having on holding back the creation of viable green markets in the United States.
The impact of such lobbies can often be self-defeating. For instance, pressure to keep gas prices low led the U.S. auto industry to manufacture vehicles that were too large and fuel-hungry to compete in ever more cost-sensitive global markets.
Building resource-efficient cities
A key arena in which the new resource-efficient economy will be build is in cities. Urban planners and policymakers in emerging countries like China and India need to think about what path they want to go down when building up cities to meet the demands of their rapidly growing populations.
U.S. cities such as Atlanta and Phoenix have about the same income level as cities like Barcelona, Amsterdam, Copenhagen and Freiburg, Germany. But those U.S. cities have carbon footprints of around 20 to 40 tons on a per capita basis, whereas the European cities have resource footprints of only about three, four or five tons per capita.
That is up to a ten-fold difference in resource efficiency. And yet it is not clear that people in Atlanta and Phoenix are happier, or that their cities are more innovative or more livable than Copenhagen, Stockholm or Barcelona.
Nor is it clear that they are in a material position to face the real challenge of the 21st century, when resource prices are likely to rise steeply.
Not only are more resource-efficient cities better positioned to cope with the changes that will come because they are more resilient. Probably much more significantly, people living in less carbon-intensive cities will need to spend less of their disposable income on energy than their urban counterparts in the United States.
<!-strCallout4->So, setting out that model is very important in terms of making the right kinds of decisions on infrastructure and technology, but also on psychological behavior patterns.
If you go to Copenhagen, many people there ride a bike. Why? Because there is good infrastructure for cycling, such as bike lanes. Why is there good cycling infrastructure? Because many people rides bikes. This is a virtuous circle reflecting both a physical lock-in and also a psychological lock-in.
True, it is too late now for Phoenix or for Atlanta to build many bike lanes and to have integrated public transport. These cities are too sprawling to principally rely on anything but cars. But they could still dedicate bus lanes on highways and invest in distributed renewable energy.
It is not too late, however, for the city planners in India and China to think about the kinds of growth paths they want to use to build out their cities.
This will have very direct consequences for the kinds of technologies, goods and services they might invest in and purchase in order to manage their own transition to resource efficiency for the 21st century. These countries are thinking ahead to make the most of changing comparative advantages and emerging commercial opportunities.
That is a powerful political and commercial message. The world has important choices to make about its future locally and regionally. The global recession presents the opportune moment to seize upon it.
Editor's note: This essay was adapted from the author's presentation at the 2012 Salzburg Trilogue. Hosted by the Bertelsmann Stiftung in Germany, the Salzburg Trilogue facilitates international cultural dialogue by bringing together recognized public figures to consider matters of global importance.
More on this topic