On Top of India: The Neemrana Fort-Palace
A visit to one of the world's most magical hotels.
January 25, 2015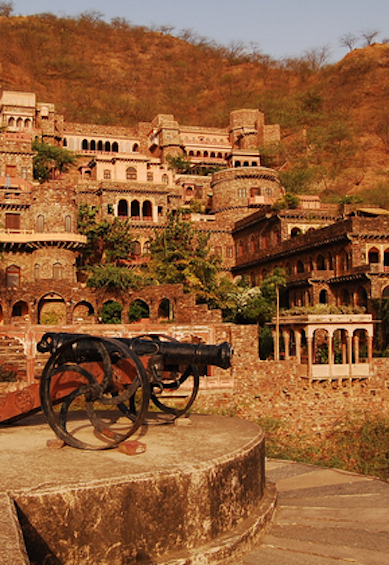 Neemrana Fort (Credit: Wikicommons)
Disclosure: No, I was not comped by the hotel or paid by any interest or tour sponsor to write this.
Over the years, my various attempts to visit India had been stifled by the shenanigans of India's visa bureaucracy. Eventually, I took solace in the Kafkaesque notion that India was really like a castle to which humble people like myself might never get access.
So it was only fitting that, when I finally made it into India (aka the castle), I would end up spending my first two days in India at a truly magical, yet castle-like place, the Neemrana Fort-Palace.
A friend had invited me to participate in his MBA classes on globalization at the nearby NIIT University. He suggested to stay at what he described as an interesting hotel nearby. That turned out to be the best tourism advice I have ever received.
I figured that spending a few days in "real" India, before spending a week in Delhi for conferencing, talks and interviews, would be the smart thing to do. The country, after all, is still overwhelmingly rural (with close to 70% of the population living in rural areas).
On the road to the castle
The Indian state of Rajasthan, where the university and hotel are located, is largest state by land area. It is located just to the southwest of Delhi and one of its poorest states measured by income.
After landing at Delhi's international airport, I met up with a driver who took me to Neemrana, a village just off the Delhi-Jaipur highway, just over 100 kilometers away from the airport. It turned out that passing that distance was anything but a sprint.
Soon after leaving the airport, we drove for what seemed like a long while through Gurgaon, one of India's biggest business hubs. Many of the world's Fortune 500 companies have set up operations there.

Industrial park (Credit: Wikicommons)
However, for all the talk about modernizing India, the "Delhi-Jaipur Highway" wasn't much of a highway. It is more of a patchwork of country roads with some really rickety stretches, although some sections actually resembled a modern highway. Even those, however, were a far cry from what one sees in China these days in terms of road surface quality and the like.
Air pollution was a big factor that morning as well. Haze was everywhere. Even though this was November – and hence no longer the hot season – the fields we saw off to the side of the highway were dry, if not arid.
Housing in the middle of nowhere
In between, there were some traces of industry. Strangely enough, there were housing complexes nearly everywhere – even in what seemed to be the middle of nowhere.

New residential buildings (Credit: Wikicommons)
Evidently, developers just snatch up whatever tract of land they can get their fingers on and build an assembly of high-rise apartment buildings. Their hope – it's not a real business plan – is to sell to anybody who can come up with money for the steep down payment (usually in the 40% range).
The "build it and they will come" approach, of course, has disastrous consequences for traffic and the environment, given the disconnectedness to any kind of urban planning and/or public transportation, which mars these new abodes for India's burgeoning middle classes.
Those developers do have plenty of chutzpah. They are fond of giving these building complexes, even though they rise from the dust, all sorts of fancy names like Green Paradise.
However, none of what one would imagine going along with that image, say, trees or grass, is visible. The world of make belief seems to be a key selling point.
As we rode along the highway, I also came across plenty of evidence of India's public defecation problem. Male drivers, always at liberty to relieve themselves, would just stop their cars and trucks on the side of the road-called-highway – and urinate.
The haze didn't get any better the further away from the airport we got, even well after we had entered rural Rajasthan. The reason is that the state's government, in order to advance the economic fortunes of its people and increase the low level of per capita GDP, has set up industrial zones galore to attract manufacturing facilities.
A highway? 2.5 hours for 100 km
Then there were cows. We saw them ambulate rather freely around the roadside towns and villages we passed through on our way to Neemrana. They were stunning in their serenity, as if floating over and among the people, trucks and cars.

Cows graze the dusty grass off of the highgway (Credit: Wikicommons)
When we finally turned off the Delhi-Jaipur road, after what seemed like 2.5 hours (impressive for a 100 km stretch of "highway"), we finally approached Neemrana.
In the village, there were, of course, more cows – in all colors and running the entire gamut from skinny to very bulky.
Approaching the gate
But where was the famed hotel? All I had seen up to this point had reminded me of the more stressed out parts of Vietnam, another Asian country that is trying to catch the global manufacturing wave, with all the whitening-greying air pollution that entails.
The driver found some heavily weathered sign directing us to the Fort-Palace hotel. It seemed surreal. From the polluted industrial landscape we had entered into a village structure that was basically untouched by the centuries that have passed it.
I began to have doubts about my choice of location for my first two nights in India. Little did I know. After a few more turns of the village road and after ascending the most roughhewn, but still drivable cobblestone path I have ever experienced, we arrived at the gate of the fort-hotel.
And then everything turned magical. The photos really speak for themselves. The hotel, consisting of an amazing array of little pavilions stacked into one another in the most fluid of ways, is literally engraved into the side of a steeply rising mountain.
It seems too pretty to be real. And indeed, it has a touch of being the Indian equivalent of Germany's picturesque Neuschwanstein Castle – only this one stemmed from the 15th century, not the 19th.

Neemrana Castle (Credit: Wikicommons)
Heavenly India
Part of a group of heritage hotels, the Neemrana Fort-Palace, with all its nooks and crannies, offers a perfect get-away. In fact, I later found out that one of The Globalist's contributors got married there. That must have been quite a spectacular affair.
Even though alone, I was assigned a beautiful multi-room apartment with an expansive view over the village and the increasingly industrialized plain extending to the end of the horizon below.

Patio overlooking village (Credit: Wikicommons)
For the next two days, I spent most of my time in what I consider the ideal bio cycle. I alternated between swimming in the two stunning outdoor pools, terraced into different levels of the mountain-hotel, proceeding to resting, reading, writing and editing, only interrupted by eating, to then start the cycle anew.
In between, there were many moments of pinching myself and doublechecking my eyesight. I had to make sure that what I was seeing was real – and not mere imagination.
The landscaping, the views, the food, the kindness of the staff, the Alpine coldness of the water in the two swimming pools, the consequential rigor with which Aman Nath and Francis Wacziarg, the two visionaries behind the concept, built it all up, were truly captivating.
Best of all, I had found entry to the castle, both literally and figuratively. What a spectacular one (both Neemrana and India) it turned out to be!
More on this topic