Robots Are Not the Problem
Less "rise of the machines" — and more "rise of the incomes."
February 4, 2014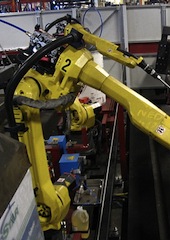 Industrial welding robot. (Credit: Phasmatisnox - Wikipedia)
Since the dawn of the industrial revolution 200 years ago, automation has been the subject of both exultation and trepidation around the world. Then, England's Luddites smashed looms that were replacing jobs for weavers. Worries about robots replacing workers have persisted ever since.
Despite these worries, there has been a consensus, at least in the developed world amongst academics, policymakers, and the public that technological progress is a good thing: providing much of the impetus for economic growth.
Several years into a plodding recovery from the great recession, however, Luddite ideas have once again captured the attention of not only the popular media but also a number of academics.
Outlets from 60 Minutes to MIT's Technology Review to the Associated Press have featured major stories on the perils of automation, and many intellectuals, including Andrew McAfee and Eric Brynjolfsson are blaming automation for labor market problems.
While these ideas have only recently regained traction in the U.S., Luddite logic has long been a fixture of economic policy in developing countries. Because of the large "oversupply" of labor in many of these nations, jobs are often treated as a scarce resource to be spread as widely—and as thinly—as possible.
Can't afford productivity?
Productivity is therefore seen as a problem because it helps fewer people do more work. As one CEO of a large Indian manufacturing company once said to me, "we can't afford productivity in India; we need the jobs." Indeed, this is a common view among policy makers in developed nations, and so they intentionally avoid pro-productivity policies.
Of course, this is exactly the "Luddite Fallacy" that economists have long condemned. In fact, the very reason poor countries are poor is because productivity is so low.
So is productivity and automation the answer? Is it really that simple? What about all those other people that get replaced by automation?
As it turns out, it really is that simple—most of the time. The problem with the Luddite Fallacy is that it assumes that employers make a simple trade: higher productivity for fewer workers. But the truth is not nearly so simple.
Economic research has shown that when productivity increases, employers make all kinds of different decisions about employment. These decisions depend on the market for their products, their competitors, the nature of the labor market, and the type of innovation that has occurred.
More jobs from automation, not less
In fact, a number of microeconomic studies across developing and developed countries alike find that, after productivity increases, roughly half of employers decrease workers—but the other half add workers.
And finally, from the macro perspective, studies by the International Labor Organization (PDF) and World Bank (PDF) have shown that productivity is much more likely to accompany net employment gains in an economy than job losses. In other words, even if productivity gains do eliminate some jobs, they are creating other ones.
Think of it this way. If your company produces widgets and you suddenly find a way to produce twice as many widgets with the same amount of workers, how will you decide what to do?
Since your widgets only require half the labor costs they did before, you can produce them for less money. This means that you might be able to sell more of them—maybe twice as much, maybe three times. Then you might want to hire more workers.
These benefits from productivity are not only theoretical. They are not only seen in developed countries, but they have been observed in developed nations around the world, from Bangladesh to Costa Rica to Taiwan.
Cheaper goods, more purchasing power
But even if you decide to lay workers off, the productivity gains will still benefit the economy. This is because productivity enables cheaper widgets. As a result, widget purchasers now have more money to spend on other things, stimulating demand for other goods and services in the economy and creating jobs in those sectors.
This effect is more obvious from a macroeconomic perspective. Trade imbalances aside, any economy can only consume as much as it produces. This means that developing countries cannot get richer without increasing productivity.
Instead of shrinking from automation, therefore, all nations must encourage creative destruction and productivity – or risk future economic stagnation.
Automation is the path forward. To be sure, policymakers need to understand its benefits and drawbacks. We need policies that help maximize the former and minimize the latter. Such policies exist, but to bring them into existence we need to overcome the simplistic fears of robots stealing our jobs.
More on this topic
Read previous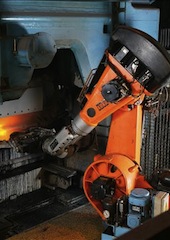 What Happens When the Robots Take Over?
February 4, 2014