Scenes of Afghanistan in Transition
Faces of the Afghan people in a moment of great change.
November 17, 2013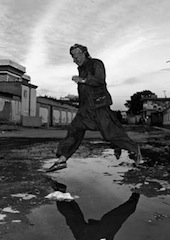 Leaping into the country's future. (Credit: Martin Middlebrook - The Other Hundred)
Afghanistan, like a photojournalist, faces its Cartier-Bresson's decisive moment in 2014 as the international coalition withdraws and a Presidential election beckons a potential vacuum.
Photographer Martin Middlebrook — in a selection from the book The Other Hundred — captured images of Afghans in Kabul at this turning point.
In the tiny alleyways of Ka Farushi, Kabul's bird bazaar, a merchant from one of Afghanistan's Tajik population sells everything from spices and flower seeds to bird food and shampoo. The Johnnie Walker Red Label bottles at the front of his stall, however, are not quite what they seem, being filled with cooking oil not Scottish whisky.
In 2012, to bring the country into line with Sharia law, Afghanistan's parliament passed a bill stipulating fines, imprisonment or whipping for anyone caught buying, selling or consuming liquor or other alcohol.
But with non-Muslim foreigners largely exempt from this ban, a black market for spirits and other drinks flourishes, albeit discreetly. Once emptied, the bottles are collected, cleaned and recycled with other liquids inside. It is unsurprising that bottles with Johnnie Walker labels often turn up – the brand is the most widely distributed and best-selling Scotch whisky worldwide, with annual sales of more than 130 million bottles.
---
Poverty is a relative thing and playing with your friends on a late spring evening is a very rich thing indeed.
The International Community talks of a 'two generation shift'; 50 years before their seemingly imposed construct will begin to bear stability and economic growth. If so, these children will be the first to witness any such change.
---
If children are innocent hope, then the 'old' are pride and dignity. Family values still hold true in many parts of the world; people don't exist in isolation as they do so often in the west. They are not measured by personal wealth, but by their position within a family and community.
Afghans faced their harshest winter in 50 years in 2012 with thousands dying from hypothermia and avalanches – here an elderly Hazara labourer walks home as another blizzard cripples Kabul.
---
Here, a man jumps a stagnant puddle in the pot-holed back streets in Kārte Seh (Third Quarter), west Kabul. Against the backdrop of thirty years of internecine destruction, people's capacity to bounce back is testament to their innate drive to survive.
---
Two blacksmiths eke out a living refashioning scrap metal, but community bonds are strong, and a little 'chai' always helps. The vast majority of Afghans make their living by simple means such as this, their ambitions as simple as a roof over their heads and firewood for the cold winter nights.
---
More on this topic
Takeaways