The Accelerating Transition Away from Fossil Fuels
This century is witnessing a shift to renewable solar and wind energy.
May 3, 2015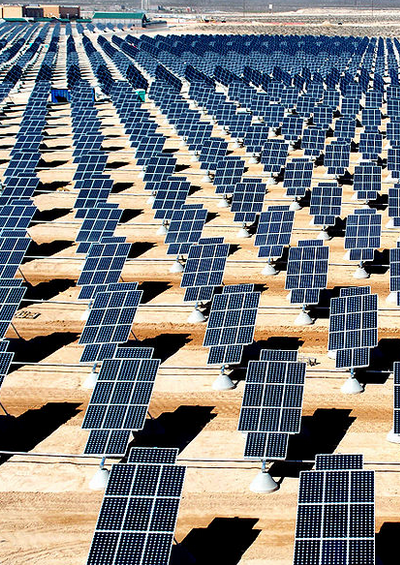 Credit: GeeJo - WikiMedia Commons
The commitment of several billionaires to carbon-free energy is a promising driver of the energy transition.
Warren Buffett, the wealthiest member of this group, had invested some $15 billion in the development of solar and wind energy by early 2014. This includes a giant solar complex in California that is now tied for the title of the world's largest. In June 2014, Buffett announced, "There's another $15 billion ready to go."
Also investing in energy from the sun is Ted Turner, who has teamed up with Southern Power — a subsidiary of the coal-heavy energy firm Southern Company — to acquire seven solar power plants. Turner is also looking at the potential for investing in wind.
PDF
| The German-language version of this article appeared in Handelsblatt.
Denver-based Philip Anschutz, who made billions in oil and gas, is committed to the construction of a 3,000-megawatt wind farm in south-central Wyoming and also to building a transmission line that will carry wind-generated electricity over 700 miles to California, Arizona, and Nevada.
For wind developers in Wyoming, a state with a wealth of wind resources but only 580,000 people, California's 38 million residents represent a very attractive market.
Businesses flocking to find savings
Businesses turning to renewable energy are reaping savings. A number of leading corporations are lowering their electric bills with emissions-free on-site solar power.
In 2014, telecom giant Verizon installed solar PV systems totaling 10 megawatts across eight of its facilities in California, Maryland, Massachusetts, New Jersey and New York. This $40 million investment nearly doubled the solar power capacity the company had installed since it launched an on-site energy program in 2013.
Walmart, America's largest retailer, is also pressing ahead. By late 2014, it had installed roughly 260 solar power systems on its U.S. buildings, each one generating 10 – 30% of the facility's electricity supply. The company's goal is to install up to 400 more PV systems at its U.S. facilities over the next four years.
In May 2014, CEO Bill Simon described Walmart's move to go solar: "It's a business decision. The renewable energy we buy meets or beats prices from the grid." By taking its renewable energy and energy efficiency goals to its global operations, Walmart estimates that it will reap $1 billion per year in energy savings by 2020.
EPA rankings encourage use of renewables
Each quarter, the U.S. Environmental Protection Agency (EPA) releases a ranking of companies, schools and municipalities using green power.
In late 2014, the top five firms were Intel, Kohl's Department Stores, Microsoft, Google and Walmart. Intel, Kohl's, Staples and Unilever were among the 600 entities that generated or purchased enough electricity from renewable sources to satisfy all of their electricity needs. Apple was not far behind, at more than 90%.
The EPA also publishes a list of companies and institutions that sign long-term contracts for renewably generated electricity. Many are specifically for wind-generated electricity.
A major benefit of these purchase agreements is that a company can get a guaranteed low price. Among the entities keen to buy green power are Google, with two 20-year contracts totaling a stunning 720 million kilowatt-hours per year, sourced from wind farms in Iowa and Oklahoma, and the state government of Illinois, with a 10-year contract for roughly 50 million kilowatt-hours per year.
U.S. government sets an example
The U.S. government occupies nearly 500,000 buildings of various sizes and has almost 600,000 vehicles. Because it is far and away the country's —not to mention the world's — largest consumer, spending some $500 billion per year for goods and services, it can use its purchasing power to accelerate the energy transition.
Various regulations require its buildings, vehicle fleets, and electronics purchases to meet certain efficiency standards. Besides saving energy, this also saves taxpayer money.
The recent growth of renewable energy generation makes it clear that solar energy and wind energy are no longer fringe energy sources.
Power systems everywhere will look different. They will be made up of millions of solar panels, in many cases tied into a smart and flexible grid getting power from wind turbines as well as from geothermal and hydroelectric projects.
In one sense, developing countries have an advantage because they can take a shortcut to the new energy economy, building it as they develop. Just as they bypassed the need to install telephone wires and poles when they turned directly to cell phones, they can avoid the need for an electric grid by going directly to rooftop solar panels.
The biggest question facing civilization is: Will the energy transition proceed fast enough for the world to avoid catastrophic climate change?
No one can say with certainty. Only time will tell. But exciting change is afoot. The industrial revolution set the stage for disrupting the earth's climate. This new energy revolution is setting the stage for stabilizing it.
Ambitious renewable energy targets are being surpassed years ahead of schedule. National wind and solar power production records are routinely being shattered.
As victories in shuttering coal plants mount, as new clean energy systems are built, and as transportation systems are electrified, a tipping point could be near.
Editor's note: The above text is adapted from "The Great Transition: Shifting from Fossil Fuels to Solar and Wind Energy" by Lester R. Brown, W. W. Norton & Company (April 2015)
More on this topic