The Uber of Athens
In 2011, Nikos Drandakis launched an app connecting people and taxis in Athens.
June 21, 2015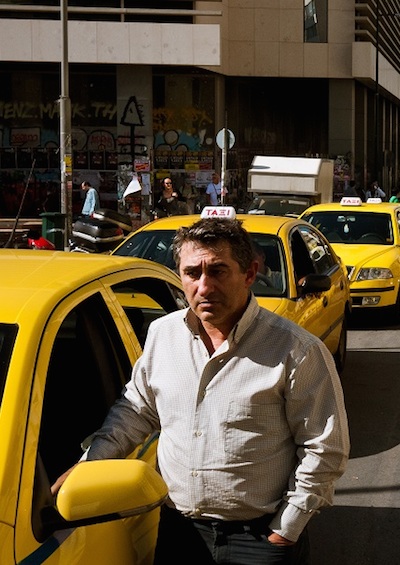 Credit: Francesco Lastrucci / The Other Hundred Entrepreneurs
Nikos Drandakis launched Taxibeat, a mobile phone taxi-hailing app that helps people find taxis, in his home city of Athens in 2011. The app lets people see not just what taxis are available near them, but also gives ratings for each driver and other information such as their car model and languages spoken.
Taxibeat's revenues come principally from independent taxi drivers, who pay a small commission on all business the app brings them. Passengers pay nothing to use the app. Ratings go in both directions, with passengers rating drivers and drivers rating passengers.
The hardest thing to start with, says Nikos, was getting a critical mass of drivers and customers. Greece's economic problems helped here. As well as pushing down software writers' salaries, taxi drivers were keen to explore new ways of recovering some of the business they lost after the country's economy collapsed during the global financial crisis.
Nikos is now taking Taxibeat to other countries both across Europe and also in Latin America, where it is becoming increasingly popular in Rio de Janeiro and Sao Paulo in Brazil and in Mexico City.
Text and photographs by Francesco Lastrucci
---
Taxi drivers pay Taxibeat a commission of €0.50 for each passenger the app brings them.
---
---
---
---
---
---
Francesco Lastrucci is a freelance photographer, born in Florence in 1977. After pursuing architectural studies for a while, he moved to Stockholm, dedicating himself to photography. Since then he has lived in Italy, New York, Hong Kong and Colombia, and is now based in Florence. His work has appeared in The New York Times, International Herald Tribune, The Independent on Sunday, Monocle, Vanity Fair and many other publications. He is currently working on a long-term project about Colombia.
The Other Hundred is a unique photo-book project aimed telling the stories of people around the world who are not rich but who deserve to be celebrated.
The Other Hundred Entrepreneurs: 100 Faces, Places, Stories — the second volume in The Other Hundred series — focuses on the world's everyday entrepreneurs. It captures the reality that small and medium-sized businesses, rather than tech billionaires or elite MBAs, contribute the majority of the world's jobs, including half of all jobs in Africa and two-thirds in Asia.
The book offers an alternative to the view that most successful entrepreneurs were trained at elite business schools. Here are people who have never written a formal business plan, hired an investment bank, planned an exit strategy or dreamt of a stock market floatation. Some work for themselves, others employ a few people, still others a few hundred.
The book's 100 stories were chosen from a pool of 10,000 images shot in nearly 150 countries. The book is published by Oneworld Publications in London and is available in bookstores worldwide and online.
More on this topic
Takeaways