Top 10 Upcoming Global Elections
A list of the most interesting elections of 2014, by date.
January 1, 2014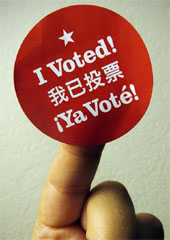 Credit: Anita Hart-Flickr
1. Afghanistan's presidential election on Saturday, April 5.


2. Iraq's parliamentary election on Wednesday, April 30.


3. India's Lok Sabha, or Lower House, parliamentary election in April or May.


4. South Africa's national assembly election, which will likely be held sometime between April and June.
5. European Union parliamentary elections from Thursday, May 22 through Sunday, May 25.
6. Colombia's presidential election on Sunday, May 25.


7. Indonesia's presidential election on Wednesday, July 9.


8. Turkey's presidential election in August.


9. Brazil's presidential election on Sunday, October 5.


10. U.S. congressional elections on Tuesday, November 4.


Editor's note: This list was compiled by James M. Lindsay of the Council on Foreign Relations. For his full analysis of each election, read "Ten Elections to Watch in 2014."
More on this topic
Takeaways
Next year, key elections will be held in Afghanistan, Iraq, SAfrica, EU, Colombia, Indonesia, Turkey, Brazil and US.