U.S. Fracking and the Russian Bear
Can U.S. shale gas really rebalance global supplier relationships?
March 17, 2014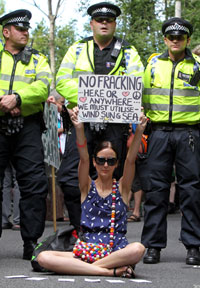 Anti-fracking protest march in Balcombe, UK, in 2013. (Credit: Randi Sokoloff - Shutterstock.com
1. It is often argued that the crisis in Ukraine could be a wake-up call for Europe to diversify its energy supply away from Russian oil and gas.
2. U.S. fracking has made thousands of new wells possible, many close to population centers – instead of the remote locations of the past.
3. A rush to drill new oil and natural-gas wells across the United States has turned millions of people into the shale gas industry's neighbors.
4. Concerns range from heavy truck traffic to possibly pollution of drinking water, climate change and falling property values.
5. The key problem with fracking may not be what goes on down in the drillhole or the reservoir (provided the regulatory control over the standards is good).
6. Fracking's real limits may have to do with land usage issues and the use of water for production purposes in water-short areas.
7. In Europe, mineral rights are controlled by governments, not by private individuals.
8. It is hard to imagine that private individuals would be in favor of drilling on their property if they do not stand to gain anything from it.
9. The U.K. or continental Europe or pretty much anywhere else in the world is unlikely to frack any time soon.
10. Many countries will not start fracking, at least not until property-rights and royalty-payment plans that are friendlier to the affected parties are put in place, which may never come to pass.
From Fracking Gets More Neighborly by Lynn Cook (Wall Street Journal). Sources: Former Shell Chairman Mark Moody-Stuart and Chris Finlayson of British energy company BG Group.
More on this topic