Paul Manafort's Europe Connection
Former European leaders took secret cash for their engagement in Ukraine. Will that have consequences?
September 19, 2018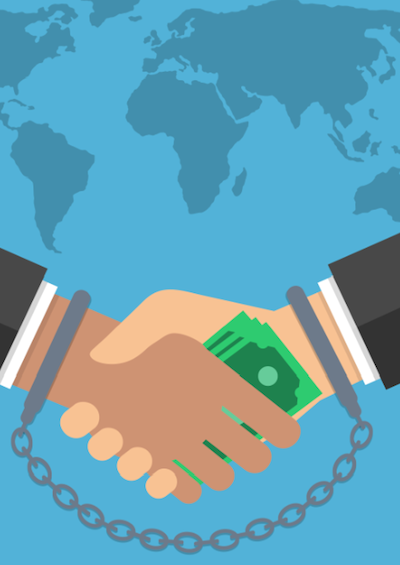 Credit: Biro Emoke - Shutterstock.com
What is one to make of the secret activities of the Habsburg Group?
In 2011, following Viktor Yanukovych's election as Ukraine's president, then U.S. political consultant Paul Manafort was hired to develop plans to promote the international political goals of the new leader in Kiev.
Yanukovych sought strong support from West European governments and from the U.S. Congress and the White House.
The plans and their funding were to be kept strictly secret. Over four years, at least $11 million was spent by Manafort. The money was distributed via a host of shell companies in a dozen jurisdictions to lobbyists that he recruited on both sides of the Atlantic — at least $2 million went to the Hapsburg Group.
Manafort explained to Yanukovych that this was a "A super VIP group of former heads of European governments and VIP officials."
Gusenbauer, Prodi and Kwasniewski
Details of Manafort's operations were disclosed last Friday in documents presented to the federal court in Washington, D.C. by the U.S. Justice Department on behalf of U.S. Special Counsel Robert Mueller.
Significantly, immediately prior to the court filing, on September 13, 2018, Manafort agreed to plead guilty to a obstruction of justice and a catch-all "conspiracy against the United States," which include failing to register as a lobbyist for a foreign government.
He has plenty of reasons to cooperate with the U.S. government now, given that just a few weeks ago Manafort was found guilty of charges that included bank fraud, $30 million of money laundering and $15 million of tax evasion.
The EU's left supports Ukraine's right wing?
The VIP team that Manafort created is referred to repeatedly in the court documents as the Habsburg Group, which is coordinated by former Austrian Chancellor Alfred Gusenbauer. Leading members include former European Commission President and former Italian Prime Minister Romano Prodi, as well as former Polish President Aleksander Kwasniewski.
Politically, two facts are surprising: First, these politicians are all prominent left-of-center politicians. Second, they became highly active advocates of the right-wing Yanukovych regime.
Denials so far
According to U.S. media reports, they have either refused to comment on the allegations or denied suggestions that they secretly took cash to promote the interest of Ukraine.
The court papers noted, just as an example, that the team promoted the interest of the Ukraine government in meetings in the three months from November 2012 to February 2013 with, among others: European Parliament (EP) leader Martin Schultz, French foreign minister Laurent Fabius, senior EU and IMF officials.
Plans were set for meetings with senior U.S. government officials, which other court documents show did take place later in 2013.
Manafort's Connection
The former European political leaders who worked under the auspices of the Habsburg Group had multiple contacts with Paul Manafort. It is surprising that they apparently asked few questions about the ways in which they were being paid, through offshore shell companies, and why Manafort insisted that his name never be mentioned in any of their dealings on behalf of Ukraine.
Manafort will go to prison and he will pay a steep fine. In contrast, the European officials and former political leaders that he employed are unlikely to face investigations, let alone their days in court.
This is astonishing, especially considering that they may have violated laws, and/or acted in ways that are counter to the ethical standards of the governments or international institutions that at differing times they represented.
Conflicts of interest
For example, Aleksander Kwasniewski was allegedly receiving cash as a member of Habsburg Group at the same time as he co-led a European Parliament (EP) mission to Ukraine to monitor conditions there.
The then-EP President Martin Schultz declared at the time: "The mission's reputation of impartiality and independence is a great asset to both the EU and to Ukraine, and it is part of a process of increasing engagement, which has to continue."
The Commission had positive things to say about Ukraine, which must have brought a wide smile to Manafort's face.
Why not a European Parliament investigation?
So, will there be a serious European Parliament investigation now into what was so clearly a conflict of interest?
I doubt it. After all, over the last five years there appears to have been 24 cases of so-called ethics complaints involving EP members, but nobody has been sanctioned.
Many of the likely conflicts of interest of European politicians are not nearly as complex as the schemes that Manafort devised. Rather, they may well relate to outside commercial interests of elected parliamentarians.
The disclosure guidelines governing investments and outside business income of elected parliamentarians across most of Europe are overly general and rarely, if ever, effectively monitored.
In some parliaments in Europe, such as Germany and the UK, there are no serious requirements on members to disclose information about consulting work they may be doing on the side and who their clients might be.
European political ethics
The disclosures in the Manafort papers ought to set off some alarm bells in Europe. At a minimum, it should launch a serious conversation in European capitals and in the European parliament about conflicts of interest, about the ways they are prevented and about the enforcement of ethics regulations.
It would be worthwhile as well to review whether or not there should be regulations regarding the ways in which top politicians operate, and lobby, after they leave office.
At a time of growing populism, it does not sit well with the public at large that politicians often state they seek the public's trust, but are then prepared to abuse their power as they scheme to get rich.
Clearly, they should neither be able to operate with impunity, nor assured that their unethical actions will not be investigated, let alone prosecuted.
Manafort to tell all
Meanwhile, perhaps the Habsburg Group members will now have a few sleepless nights. The documents that have been filed in U.S. court are the start, not the end of public disclosures.
Paul Manafort is about to start talking to the U.S. Special Counsel in a desperate effort to earn some mercy as he currently faces at least 10 years in jail.
Manafort agreed as part of his plea deal to "cooperate fully, truthfully, completely, and forthrightly with the Government and other law enforcement authorities identified by the Government in any and all matters as to which the Government deems the cooperation relevant."
To the undoubted horror of president Trump, Manafort will undoubtedly be asked by Robert Mueller to reveal everything he knows about possible deals and connections between the Trump election campaign, in which he served as chief manager for several months in 2016, and Russians.
He may also be asked to provide far more details about the law firms, banks, consultants, and former European politicians he paid over the years as he secretly and unlawfully lobbied for Ukraine's Viktor Yanukovych.
More on this topic