Is Zelensky a Ukrainian Trump?
Why the choice of an unlikely figure as Volodymyr Zelensky to become President provides Ukrainians reason for hope.
April 16, 2019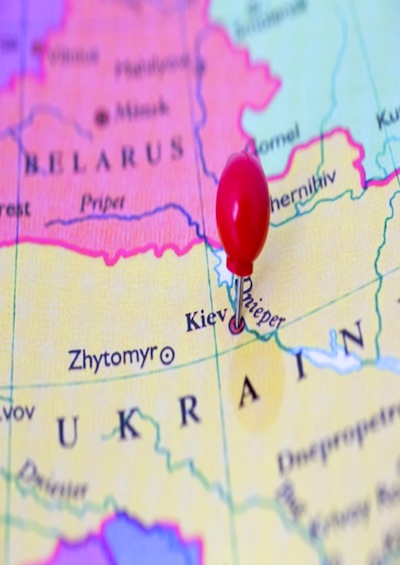 Credit: Mikkel Bigandt- Shutterstock.com
As of early April 2019, it looks more likely than not that Volodymyr Zelensky will become Ukraine's sixth post-Soviet head of state.
A Zelensky presidency would be not only a political, but also a historical aberration in post-Soviet Ukraine. Zelensky is not merely an outsider to Kyiv high politics. He would also be the first such newcomer who will have made it as high.
In 2014, former box champion Vitaly Klychko became Mayor of Kyiv. And while other outsiders have advanced into Ukraine's parliament and to high ministerial posts before, no total political novice come as close to occupying Ukraine's highest public office as Zelensky has.
Disappointment with the governing class
The obvious explanation for Zelensky's advance is the deep disappoint¬ment of Ukrainians with their governing class. After almost 30 years of electing either relatively pro-Russian or officially pro-Western men from the country's supposed economic and political elite to the presidential office, Ukraine remains one of the poorest nations of Europe.
To be sure, many of the country's more recent economic problems are results of external factors – Russia's ruthless hybrid war against Ukraine, Moscow's annexation of Crimea and the Kremlin's hidden occupation of much of the Donets Basin.
Yet, at least in the Ukrainian population's perception, the slow recovery from the shock of 2014 and many other of the country's continuing problems are largely due to Poroshenko & Co's various failures as reformers and statesmen (few women are to be found in important positions) rather than only results of Kremlin meddling.
There are indeed not only many destructive repercussions of the ongoing Russian subversion and occupation of Ukraine. There are also various weighty reasons for Ukrainians' fundamental disappointment with their old ruling circles.
Against this specific background, Ukraine's resulting choice of a successful showman not linked (or, at least, not visibly tied) to the old political class as head of state is less surprising than it would otherwise be.
It is also less an expression of some deeper socio-political pathology than the sudden rise of dubious personalities like Donald Trump in the United States or Beppe Grillo in Italy.
Subjective feelings of alienation
Subjective feelings of alienation from the "old system" in Ukraine and the West may be partly comparable. Yet, the objective situation of Ukraine as a country fighting a long war and suffering from extreme poverty as well as being haunted by an especially large degree of systemic corruption and personal insecurity is different.
It makes Ukrainian current problems not fully comparable to the various issues and challenges that average Western citizens may encounter during their lives. Ukraine's citizens face a far more daunting task of materially, physically and psychologically managing their own professional and private affairs than in any Western country.
That fact of life makes this society's functioning principally different from that of most EU and NATO member states, including the Ubited States and Italy.
Ukraine's election of Zelensky is thus only on the surface a continuation of larger transformative trends in the electoral politics and public affairs of many countries of Europe.
The context of the Zelensky detour from earlier Ukrainian political patterns is driven by other factors, if not of a different nature, than by seemingly similar curiosities in advanced Western democracies.
Poroshenko means regression
One could go as far as arguing that a re-election of Poroshenko would have been – given Ukraine's negative experiences with him and with previous Presidents partly comparable to him – an expression of regressive social immobility.
This somewhat "rational" aspect of the choice of an otherwise as unlikely figure as Zelensky to become President provides reason for hope.
It means that the starting point for his rule as an outsider is different from the more irrational impulses behind the seemingly similar sudden rise of Donald Trump.
Arguably, the U.S. political class's quality is – in terms of its self-organization, work standards, professionalism and plain decency – higher than Ukraine's.
In view of this baseline difference, the election of an outcast like Trump appears as far more unreasonable than choosing the outsider Zelensky, in view of Ukrainian party politicians' performance during the last thirty years.
Merely stupid, outrageous and dangerous?
Many patriotic Ukrainian intellectuals find their compatriots' vote for "the clown" Zelensky stupid, outrageous and even dangerous.
Yet, given the historical record of Ukraine's political elite and given the alternatives at hand in 2019, a decision for an as politically inexperienced candidate as Zelensky appears not entirely unreasonable.
After all, on five occasions so far, Ukrainians have elected politicians as presidents who had made their careers within the "old system." These choices turned all out to be, in one way or another, fundamentally wrong. In a way, it had, by 2019, become high time to try something else.
Such a contextualization does not diminish the considerable risks involved with Zelensky's manifest lack of both relevant administrative experience, and an adequate team of assistants as well as advisors.
Back to a proper balance between President and Parliament
True, in times of war, Ukraine does not have the luxury of political experimentation and governmental dilettantism, at the top.
But Ukraine is formally a parliamentary-presidential republic with considerable prerogatives concentrated in the hands of the parliamentary majority, governmental apparatus and prime-ministerial office.
Poroshenko's astuteness as a political dealer-wheeler partly nullified the effects of the formal constitutional division of power.
Yet, during and after the 2019 electoral season, the balance of power of the Ukrainian parliament and government vis-à-vis the presidential administration will probably shift to the former. As a result, Ukraine's political system should become more parliamentary in nature.
Ukraine's president may then be left to his constitutionally defined fields of responsibilities. He has the official authority to determine Ukraine's foreign, security, judicial and defense policies.
Conclusion
Zelensky is – apart from his English-language proficiency and degree in law – not well-prepared for any of these tasks. Yet, he can and hopefully will appoint competent ministers and bureaucrats with relevant higher education and work records in these fields.
Ideally, he will be modest enough to let himself being partly guided by them.
More on this topic