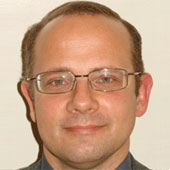 Senior expert at the Ukrainian Institute for the Future in Kyiv, and editor of the book series "Soviet and Post-Soviet Politics and Society."
Andreas Umland is Senior Non-Resident Fellow at the Center for European Security of the Institute of International Relations at Prague, and General Editor of the ibidem-Verlag book series "Soviet and Post-Soviet Politics and Society" and "Ukrainian Voice" distributed by Columbia University Press.
Andreas Umland teaches in the German and European Studies program at the Kyiv-Mohyla Academy, Ukraine and is a member of the Academic Experts Council of the Ukrainian parliament's Committee on European Integration. Previously, he was a research fellow at the Catholic University of Eichstaett-Ingolstadt, in Germany.
Mr. Umland was a DAAD visiting lecturer at Kiev's Shevchenko University from 2005-08 and a Bosch visiting lecturer at the Ural State University, in Yekaterinburg, Russia, from 1999-2001. He has been a visiting fellow at Stanford's Hoover Institution (1997-99) and Harvard's Weatherhead Center (2001-02).
He is a member of the Valdai International Discussion Club and is on the editorial boards of the Journal of Comparative Fascist Studies, "Forum noveishei vostochnoevropeiskoi istorii i kul'tury," CEU Political Science Journal and Ideology and Politics Journal.
He holds an M.A. from Stanford University, an M.Phil. from Oxford University, a diploma and doctorate from the Free University of Berlin, and a Ph.D. from Cambridge University.