Ukraine's Elections Repudiate Oligarchs, Putin
A more prosperous Ukraine —where good money from legal economic activity drives out bad money from corruption and illegal trading — will worry Putin.
July 22, 2019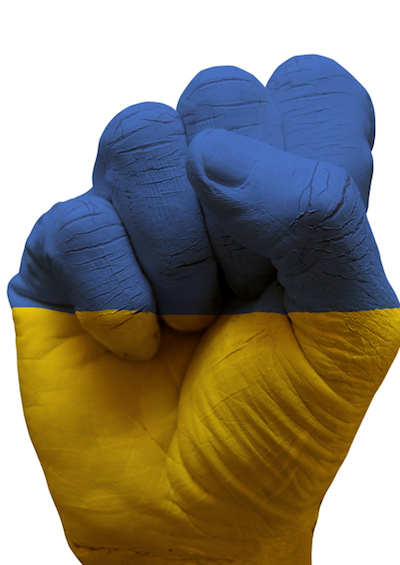 Credit: tony4urban www.shutterstock.com
For the first time since the Orange Revolution in Ukraine in 2004, the people of Ukraine have finally voted for radical change to leave behind the type of oligarch and state corruption which rules Russia and which has controlled Ukraine under different regimes this century.
Previously, Ukraine's president and its parliament were controlled by different opposing forces which blocked necessary reforms to update the country.
In April, a reformer, economist turned TV star, Volodymyr Zelensky, was elected with a massive 73% of the vote in the presidential election.
He needed however a majority in parliament to pass the laws needed to reform the country.
Votes are still being counted from Sunday's election but it looks certain that Zelenksy has won an overall majority of seats in the Ukraine parliament which is elected partly on a party list system and partly on constituency MPs elected on a first past the post system.
Brussels has no solution
For Europe, Ukraine remains one of its borderland problems to which Brussels so far has had no effective solution.
The last president, Petro Poroshenko, elected in 2014, was a billionaire oligarch. He proclaimed he was leading Ukraine into NATO and the EU, neither of which has happened.
But his party only had 22% of the Parliament's MPs, so most laws needed to de-corrupt Ukraine were easily blocked which suited Poroshenko's fellow oligarchs.
Some political analysts in Kiev hope the new parliament where two-thirds of MPs elected on national party lists are first-timers can turn Ukraine round.
None of the other parties, including the pro-Russian Opposition Platform of the Russian-speaking Ukrainians who have never really given up hopes of reuniting with Mother Russia got much over 10%.
Other parties headed by oligarch-friendly politicians like Poroshenko himself or the blonde-tressed Yulia Tymoshenko each won 8%.
There is another new party, Voice, headed by a rock star, which won 5.8% and which could in theory form a coalition with Zelensky.
Zelensky's majority
Zelensky won an estimated 126 seats with his share of the list system elections but is estimated to have won a further 100 seats in the first-past-the-post section of the election to have a majority in the 450 seat parliament.
In the past these individual seats, elected locally by majority votes, were much closer to Ukraine's oligarchs and business men who have vote buying operations in remoter, poorer or anti-Kiev cities and regions of Ukraine to make sure their men and women or indeed themselves get elected.
The cost of buying a seat in the Ukraine parliament is about $2-3 million, but if the public sector contracts come to the different oligarchs with the help of their rotten borough MPs it is money well spent from their point of view.
This rotten system means Ukraine per capita GDP is only about a quarter of neighboring Poland.
If seats with their parliamentary immunity can be bought by oligarchs and even criminals then this corruption spreads throughout the economy and state administration down to small towns and even villages.
Reforming the country
If Zelensky can convert his presidential and now parliamentary majority into reforming the police and public prosecutor's office, the security services and judiciary by appointing clear reformers to head these public agencies, Ukraine can move forward.
Economist Anders Aslund, the leading expert on the post-Soviet economies of Russia and Ukraine, suggests the legalization of private sales of land, and attracting investment from abroad as well as domestic savings, can raise Ukraine's growth rate from today's 2-3% to 7%.
A more prosperous Ukraine, where good money from legal economic activity drives out bad money from corruption and illegal trading, will worry Putin.
The Crimea issue
Zelensky says he would like to talk mano-a-mano with Putin to find a solution to the Kremlin's Anschluss of Crimea to Russia and Russia's military destabilization of the Russian-speaking Donbas region of East Ukraine.
But Putin won't budge on Crimea. The German paper, Die Welt, has said Zelensky might use the vote in the parliamentary election to compromise with Putin. If he does so, he will lose the backing of Washington and a large number of Ukrainians.
As one Odessa businessman told me, "I always took my children for the family summer holiday to Crimea, but we will never go there again while Putin occupies it with his troops."
Previous leaders in Ukraine ever since the Orange Revolution of 2004 repudiated Putin's candidate or in 2013-14 when a democratic uprising in Kiev forced Putin's utterly rotten stooge Viktor Yanukovych to jump on a plane and flee to Russia have never been able to root out corruption or reform the Ukrainian economy to create a modern European state.
Putin sits in the Kremlin looking at the inability of the EU, let alone the United States or Canada, with its 1.3 million Ukrainian diaspora, to help Ukraine.
Europe's list of problems
The list of Europe's unsolved borderland problems from Brexit Britain, the Western Balkans, the southern and eastern Mediterranean failed states spewing out refugees and migrants, Turkey with its destabilizing drilling for energy in the seas off Cyprus, as well as Ukraine since 2004, is not getting smaller.
But there is now a glimmer of hope that the Ukrainian people, who have twice staged peaceful revolutionary protests, are finally using the ballot box to replace oligarchical politics with the democratic variety.
More on this topic