Biden's VP Choice: The Case of Stacey Abrams
To see just how utterly divided the Democratic Party really is, look no further than Joe Biden's vice presidential choice. A dialogue among our readers.
May 12, 2020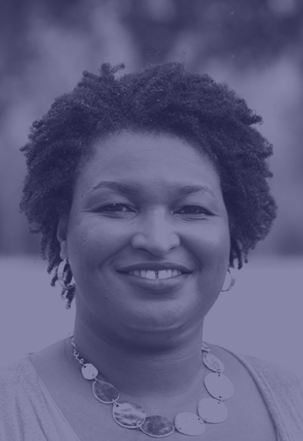 Given the utter calamity the United States finds itself in economically and increasingly also socially, the election victory of an "ABT" (=anybody but Trump) would be a foregone conclusion in any civilized country.
But things that are self-evident elsewhere are never so easy and straightforward in the United States.
Biden: Far from a shoo-in
For all the folksiness and the political experience of Joe Biden, he is far from a shoe-in as President. There are very sound experts who predict a rout – a 45-state victory by the former Vice President.
Other equally credible election experts see Trump edging him out in the electoral college, despite being an even-larger loser in the popular vote than in the 2016 race.
To be sure, given Biden's high age, his choice for Vice President is more consequential than any other in living memory.
In making his pick, Biden must consider several factors that severely constrain his choice:
• Pick somebody who will win the presidency in four years.
• Pick someone prepared to take over the Presidency if the need arises before then.
• Pick somebody telegenic.
• Pick somebody charismatic.
• Pick somebody young.
Also, there is this consideration, given the obvious need not to play into Republicans' hands in the U.S. Senate:
• Do not pick a Senator from a state where her replacement will not necessarily be a Democrat. For example, Massachusetts has a Republican Governor. That takes Elisabeth Warren out of the game.
What follows is a dialogue among our readers, all of whom are Democrats or lean that way.
Reader 1:
For a long time, I thought the idea of considering Stacey Abrams as Biden's vice president would be ludicrous. However, after listening to a very long interview with her on the Amanpour show on CNN in early May, I came away extremely impressed.
She did not misspeak once and was very clear and pointed, without ever being polemical in her remarks.
Yes, she lacks being a political heavyweight, having so far only served in the Georgia House of Representatives from 2007 to 2017, and as minority leader from 2011 to 2017. Still, one wonders whether having somebody who can speak to minorities and the "not rich" would not be a very good idea for the Democratic ticket.
Also, given that politicians on the Washington stage effectively get schooled at nauseam in engaging mostly in political non-speak, I wonder whether a fresh voice from the state level would be a boost to the ticket.
Even the Sanders voters should be able to go for her, unless they are blatantly racist.
Reader 2:
No way. Stacey Abrams has made a lot of people who previously supported her (when she ran for Georgia governor) quite angry over the past several months. Her support for Mike Bloomberg's obviously doomed presidential campaign inside the Democratic Party tent is backfiring badly.
Even the Biden campaign reportedly regards her with contempt because of what they view as her desperate attempt to undergo an open audition to be selected as Vice President on Biden's ticket, without anyone from the campaign asking her to do so.
Moreover, Stacey Abrams certainly does not have the support of the left of the party, particularly once it became clear what an Ayn Randian she is in her political outlook. (Apparently her favorite author, bewilderingly).
Reader 3:
I think Stacey Abrams would be a bad choice because she has zero experience in anything. That is a key concern for anyone who worries that Joe Biden, if elected, health-wise might not make it through his first term.
He therefore needs – and the voters will in effect demand – a Vice Presidential candidate on his ticket who can immediately assume the top job.
Michigan Governor Whitmer might qualify for that, as does California Senator Kamala Harris or New Mexico governor Michelle Lujan Grisham, even though she clearly has the least name recognition among the three.
My personal favorite is Michelle Obama (MO). Michelle Obama is widely admired and has, of course, high name recognition (Whitmer's and Grisham's biggest shortcomings).
Mrs. Obama is admired by black and white, rich and poor and men or women alike. She is a dream choice. While you can argue she has no direct experience, I think that eight years in the White House are sufficient. The only problem with this choice is that she won't do it.
Reader 2:
Beyond MO, all three of the other women basically share the same vapid, empty politics of the fully "Obama-fied" Democratic Party.
There is zero chance that Biden's campaign will make a "good" pick, in the sense of selecting anyone who would move the country or party forward.
Biden's campaign is not just stuffed with retreads from the Obama years. In fact, the campaign is re-assembling the same crew that, mostly as young men, initially cut its teeth during the Clinton Administration between 1992 and 2000.
They are also the ones that have made a lot of wrong calls on many major policy choices which the United States has faced over the past 30 years. Their inclination to please the Republicans usually did not win them anything.
It is hard to imagine, but true: Even the 2016 Hillary Clinton campaign was less aimless and demoralizing than Biden's…
That there does not seem to be a single inspiring choice among them is no surprise. The Democratic Party as a whole has pretty much vanished from sight over the past three and a half years with regard to any meaningful policy innovations. That apathy has been especially noticeable over the past two months.
It's thus pretty clear to everyone that a Biden presidency, if it materializes, could very well just be a four-year regency because of apparent declining cognitive abilities.
Reader 1:
Let's just hope that Joe Biden will win anyway. But it's a very unstable situation.
And let us hope that his team has a meaningful policy agenda or a big idea – other than not being Trump. But even if people around Biden have good plans for what to do if elected, they must overcome the Republican buzz saw.
And as we learned in the Obama years, the Republicans were hell-bent to stop virtually all initiatives by the Obama team, even though they were mostly timid to begin with.
Thus, even though current polls show that, with a Biden win, it would also be likely that Democrats win the Senate, they should not rejoice too early. Owing to the strong minority protections built into the legislative procedures of the U.S. Senate, it is likely that this frustrating experience may well repeat itself.
More on this topic