Three Reasons for Hope for US-EU Trade
Despite Trump's apparent obsession with German cars and the German trade surplus, political support in the U.S. for a trade war against the EU is much weaker than for getting tough on China.
April 26, 2019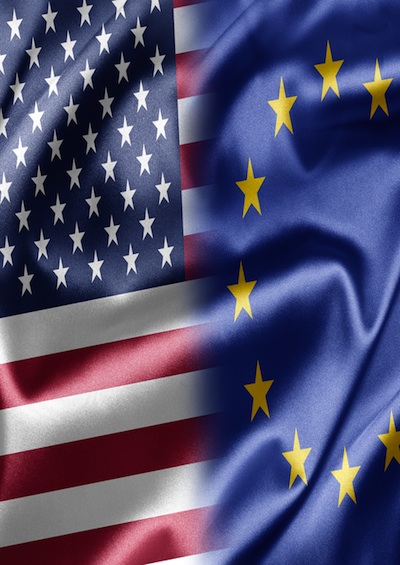 Credit: ruskpp - Shutterstock.com
The stakes for U.S.-EU trade are very high already – and the noise level is only bound to intensify in the near- and medium-term future.
EU trade commissioner Cecilia Malmström has an ambitious goal. She hopes to strike a "limited but meaningful" trade deal with the United States by November 1, 2019, when a new EU Commission takes over.
While possible, this looks optimistic. Nonetheless, there are three good reasons why not to expect an escalating dispute that could sow uncertainty and hurt global industry as much as the U.S.-Chinese trade war has done in the last three quarters.
1. A U.S.-China deal as a pacifying precedent?
Once the United States and China have indeed struck a (partial) deal, businesses and investors may infer from that precedent that the United States and the EU should also be able to do so in the end.
After all, the EU is no geostrategic rival of the United States. The transatlantic dispute is largely about standard trade matters rather than more intractable issues such as forced technology transfers, massively subsidised state-owned behemoths and intrusive novel enforcement issues.
2. Little public support in the U.S.
Despite Trump's apparent obsession with German cars on Fifth Avenue and the German trade surplus, political support in the United States for a trade war against the EU is much weaker than for getting tough on China.
While the allegation that "China stole your job" resonates in the U.S. heartland, an allegation that German car companies "steal U.S. jobs" is a much tougher sell. After all, the German-branded car which a U.S. voter may be driving may have been built in Tennessee, South Carolina or Alabama.
3.Size matters
The United States exports more than three times as much to the EU ($576bn in 2018) than to China ($180bn). The EU could thus hit back hard.
While the EU is not quite the "brutal trading partner" that Trump has complained about, it knows how to throw its weight around if it has to. As both sides know that they could hurt each other badly, both will hopefully shy away from a real conflict.
Mutual deterrence could be at work here. Since Trump started his car tariff threats, the EU has had one year to prepare lists of potential retaliatory measures. Don't be surprised if the products on such lists would have been selected partly for their political impact ahead of upcoming U.S. primary elections.
Think of the Harley Davidson case, to name a prominent if limited example of EU retaliation against U.S. steel and aluminium tariffs.
In one key respect, the U.S.-EU trade talks could be similar to the lengthy renegotiation of NAFTA. While the talks could be difficult and noisy, they need not disrupt markets, confidence and economic activity very much.
A no-deal deal?
The final result remains unclear. In the end, we may even get neither a deal nor a trade war.
Quite possibly, the United States will not agree to an accord that does not include some major goodies for U.S. farmers, or a deal that may not get ratified in the U.S. Congress.
Some small-scale tit-for-tat measures, such as the ones which both sides now contemplate over Airbus-Boeing on some $10bn of goods of either side, or U.S. tariffs only on select car and car-part imports would not hurt the economic outlook by much.
However, a full-scale trade war could have a serious impact on economic growth on both sides of the Atlantic and the global economy. The damage would come more through impaired confidence rather than the direct trade channel.
Brexit may complicate matters a little. The U.S. side may be inclined to play "divide and rule" games whereas the UK may potentially try to get its own deal with the United States instead of toeing the EU line after Brexit.
But any suggestion that the medium-sized UK could secure a much "better" separate trade agreement with the United States than the big EU27 looks unlikely.
For example, lowering consumer protection standards for food imports is not popular in the UK either. In the end, Brexit may not make a huge difference to the U.S.-EU trade talks to come.
More on this topic