As US Poverty Rises, So Does Number of Rich Households
Amid recovery, U.S. income inequality is still on the rise.
October 31, 2013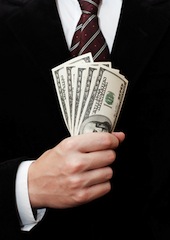 Credit: sapfir - Shutterstock.com
1. While many Americans still struggle to make ends meet in these difficult economic times, some individuals continue to generate wealth as income inequality keeps growing.
2. The number of U.S. households worth $1 million or more, excluding the value of their homes, rose to nearly 9 million in 2012.
3. The number of households with $500,000 or more in net worth rose to 14.3 million in 2012.
From As stocks rise, more join the ranks of millionaires by Michael Fletcher (Washington Post)
More on this topic
Takeaways
Many Americans are still struggling, but some individuals are still accumulating vast personal wealth.