10 Facts: Russia Vs. U.S. — Comparing Defense Spending
The two countries' defense is outsized – and on a parallel track of sorts.
March 30, 2014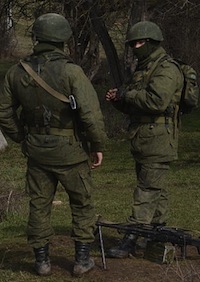 Russian troops at Perevalne, Crimea. (Credit: Anton Holoborodko - Wikimedia)
1. Only one NATO country spent more than 3% of its GDP on defense in 2012.
2. That country is the United States, which spent 4.4% of its GDP on defense-related expenditures (as of 2012).
3. Russia's defense spending today exceeds that of every other NATO nation except the United States.
4. Coincidentally, Russia's spending level stands at the same 4.4% share of GDP as in the United States.
5. Given that Russia accounts for a little less than 3% of world GDP, while the United States accounts for 22%, Russia's defense spending is much lower in absolute terms.
6. In 2012, the United States spent $668.8 billion on defense, more than seven times Russia's $90.6 billion.
7. U.S. defense spending has fallen below 4% of GDP only once since 2005 (when it dipped to 3.9% in 2006).
8. Current U.S. spending is 1.4 percentage points higher than in 2000 and 2001, when the country spent a more modest 3% of GDP on defense.
9. However, the United States and Russia have both significantly boosted their defense spending since 1992 — the U.S. by 36.7% and Russia by 25.5%.
10. Meanwhile, the rest of NATO is reaping a peace dividend of sorts — with aggregate defense spending for these 27 nations 3.4% below the 1992 level.
Analysis by The Globalist Research Center. Data credit: Stockholm International Peace Research Institute (SIPRI).
More on this topic
Read previous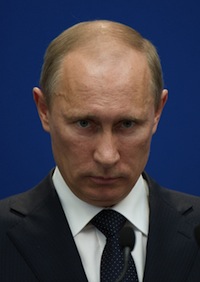 Ukraine: Real Danger Right Ahead
March 29, 2014