Buffett: No US-China Trade War
A reflection on the 2018 Berkshire annual meeting.
May 7, 2018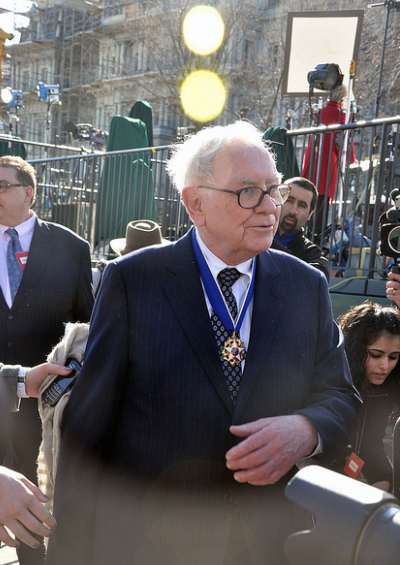 Credit: Medill DC - www.flickr.com
The United States and China will pull back from having a trade war predicts Warren Buffett, the sage of Omaha.
Speaking at Berkshire Hathaway's annual meeting, Buffett said "the United States and China are going to be the two super-powers of the world, economically… we will have disagreements but the benefits (of the trade relationship) are huge and the world is dependent on it in a major way for its progress."
"It's a win-win situation," said Buffett. They send us goods and we send them pieces of paper, referring to China's huge appetite for U.S. treasury bills.
It was a striking endorsement of trade from the nearly 88-year-old Berkshire chief and his gruff 94-year-old vice-chairman Charlie Munger. The two investment legends, again sat center stage in a darkened arena, overflowing with the faithful who had journeyed deep into middle America in search of wisdom and wealth.
For five hours they fielded questions from shareholders, ranging from a six-year-old from St. Louis to numerous Shanghai wealth managers.
Trade comes with costs
Trade is beneficial, said Buffett, but it comes with costs. The president needs to be an educator in chief who, like Franklin Roosevelt's fireside chats, explains that trade is complicated, that its benefits are hard to see while its negatives are visible and painful. It is, Buffett continued, a matter of individual pain versus collective good.
Buffett and Munger were handed ample opportunities to castigate Donald Trump and his policies, but they resisted the temptation. Instead, Buffett launched his oft repeated assertion that for Americans these are the best times ever.
"This country really works," he said. It's a remarkable country, he said, that has endured civil war, the great depression, two world wars, the Cuban missile crisis and the tumult and chaos of the 1960s. "I would love to be a baby born today," he enthused.
During his lifetime, he said, per capita GDP has expanded by six times, and Americans today are living better than John D. Rockefeller.
A terrific year
Despite a first quarter 2018 loss attributed to accounting rules, 2017 was a terrific year for Berkshire and for Buffett. The nearly 70 companies in Berkshire's stable earned $45 billion. The holding company has over $100 billion in cash, despite having bought an additional 71 million shares of Apple, now worth $43 billion.
After Vanguard, Berkshire is the second largest Apple shareholder, a company Buffett said rules its ecosystem with sticky, premium priced products.
Buffett's net worth rose by $8 billion last year to $81 billion. He gives away more than 90% of his wealth, most going to the Bill and Melinda Gates Foundation.
Amazon founder Jeff Bezos had his net worth soar even more last year. Berkshire is collaborating with Amazon and JP Morgan to reduce health costs while boosting the employee care. Buffett calls Bezos' achievement at Amazon a near miracle and concedes he was slow to appreciate the brilliance of its business model.
Bitcoin and crypto currencies are equivalent to rat poison, they say, and their stories will not have happy endings. Bonds are terrible investments, and Munger says the Federal Reserve's choice of keeping interest rates low has been extremely unfair to savers.
There was no mention of succession, although the meeting did approve the elevation to vice-chairmen of Greg Abel and Ajit Jain. Buffett and Munger gave no hint of stepping down, and they ended the meeting with the usual invitation, "we look forward to seeing you again next year."
Editor's Note: Washington correspondent Barry D. Wood was attending his eighth Berkshire Hathaway annual meeting.