Caring for Them All: Mexican Migrant Mothers and their Children
While some U.S. women choose either career or family, migrant caregivers working in the United States often have both.
May 5, 2013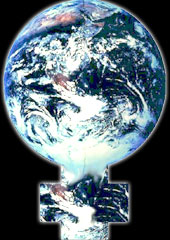 Credit: The Globalist (CC BY-SA 3.0)
With high hopes of providing for their children and for their families, many undocumented Mexican migrant women in New York work as nannies.
As the U.S. media debate whether women can "have it all" — that is, a successful career and a family — these women wonder how they can "care for them all."
There are children they have left behind in Mexico, the children they have brought over to the United States, the ones that were born here and the children they care for professionally.
According to recent research, the global caregiver chain is typically driven by a woman in a rich country entering paid employment. She finds herself unable to fulfill her domestic responsibilities for child care and house cleaning without working a "double day."
In order to free herself from this bind, she purchases the labor of another woman—usually from a poorer household, either locally or from abroad.
In the case of the United States, many of the women answering this call are Mexican migrants.
How do these women care for their own children—both those who live with them and those who live away from them — while caring for others' children professionally? What are the differences in their "ideals of care"?
Transnational mothers in New York City define and understand care differently depending on their relationship with each child. For their own children, care takes the form of remittances and financial support.
Many transnational mothers also count on grandmothers to provide emotional support and physical love to those left behind.
In some cases, mothers have brought children with them—children who remain undocumented. Even though they would like to see their offspring succeed in school, mothers seem to understand that children's "unauthorized status" impedes their educational path.
Mexican mothers who have U.S.-born children represent yet another form of caring. Language and cultural barriers can make it difficult for them to communicate and understand their children.
The mothers, feeling unrefined, also worry about making school appearances and becoming visible to authorities.
At the same time, migrant women describe their relationship with the children they care for professionally as a chance to "make it right" and "learn how to be a better parent."
Many employers provide their nannies with formal training on psychological development, cardio-pulmonary resuscitation and nutrition, which motivates women to do a "better job at caring" for their own children as well.
The story of Maria, a woman I interviewed as part of my doctoral research, illustrates these different types of caring and shows how ideals of motherhood can be transformed and put into question as migrants adapt their own notions of what a "good mother" is supposed to do.
Maria's outlook on life
Maria, an undocumented migrant woman from Mexico, had been living in New York City for over ten years when I met her. She had left her son, now 18 years old, in Mexico with her own mother.
Maria has not seen her son since she left her home country. She brought one daughter with her, Barbara (now 17), who is also undocumented.
After a couple of years Maria married Armando and they had two daughters, Mariana and Rosa. Maria worked as a nanny to eight-month-old baby Victoria. Both of Victoria's parents were doctors and Maria's workdays frequently stretched beyond eight hours.
Maria quickly found herself questioning the meaning of motherhood:
"I often wonder: what does it mean to be a good mother? I get angry at myself that I don't spend time with my own children and just Victoria. But at the same time I am able to give my children financial support. What is a mother to do?"
Maria had different relationships with each child, and according to her, there were good reasons for that:
"My son didn't want to come with me. I had to leave Mexico because my husband was not a good man. He was violent. And I lent money to the wrong people in the town and ended up owing more money than I will ever have.
"I needed to make money and have a clean break. I was under a lot of stress, you know? I needed to care [emphasis added] for my children…That is my role, a mother's role [is] to care. If I can't take care of them, I have nothing left to do in life…
"But at the same time I can't expect to be able to cook and bathe every child I have, or provide a good education for every single one of them…or help them with homework. I just do my best and that means I am divided…as a mother I am divided."
Maria described her relationship with each of her children: "With my son Julio I have feelings of guilt. I left him. But I put him through school and now college. I send him money religiously every week…I pray to Virgin and [then] send him the money. He deserves everything.
"With Barbara…ai." Tears started to come down her face, as she spoke.
"I blamed her…she represented everything that was bad and I argued with her a lot. I hit her for no good reason…I hit her in the face once…I feel really bad when I think about it."
With her youngest daughters, Maria was calm, permissible and tender. Barbara, on the other hand, was the one that woke them up every morning, walked them to school, went to parent-teacher meetings, helped them with homework and fed them.
During one of my visits, Rosa went into the bathroom. From the bathroom she screamed, "Barbara, I need you here to help me really quick." Maria looked embarrassed as she glanced at me and responded to Rosa, "My baby, don't you mean your mama?"
Rosa contested, "I said Barbara!" Maria looked at me and said, "caring doesn't always mean being there [next to them] physically…look at Julio and how his life turned out. He needed my care, but not me," she said, pounding on her chest.
According to Maria, her attitude toward her daughters changed when she started learning about the "psychology" behind raising children. As she told me, "You know, children get traumatized, not only by getting hit every now and then, but also by the words you use…I used to say like 'stupid' or 'dumb,' and that stays with them."
For example, Maria started talking about Victoria, the baby she cares for at least eight hours a day. She takes Victoria to the library, sings to the baby, reads to her, and has her listen to classical music so "her brain can develop faster."
At the same time she started using these strategies with her younger daughters at home.
For Maria, being a "good mother" meant sending money to Julio and supporting his school endeavors. It also meant helping Barbara raise her baby and teaching her how to be a good mother, and displaying patience with her younger daughters.
Maria told me she believed she "paid for her sins" by raising baby Victoria the best way she could, "If I think about what I grew up knowing a mother to be, I can say that I am actually Victoria's mother. But I didn't give birth to her, she is not my blood."
Transnational mothers who work as nanny/housekeepers sometimes sentimentalize their employers' children more that their own.
Maria, like other mothers, showed me pictures of Victoria and proudly told me that the baby only cries when her own mother holds her and that she (Maria) is the only one capable of calming and soothing her.
Maria's relationships show what many Mexican immigrant mothers in New York City believe about the meanings of motherhood and its association with "taking care" and "providing a better education."
Many emphasize that in Mexico they had less money and fewer means to provide for their children, but spent more time with them at home because they worked fewer hours.
The feeling of responsibility for one's child does not go away once one has crossed the border. If anything, it grows even stronger, and the stark physical boundaries only intensify the sense of duty towards one's family.
Mothers prioritize the education of children who they think may go further than they did in years of schooling.
Undocumented immigration puts into focus the ideals behind motherhood, as well as women's transformation and adaptation in order to remain, as they described, "good mothers."
"To whom am I a good mother?" is an everyday question for many of these women. The duty of caring for all implies the exercise of holding up everyday practices to ideals of motherhood and thus creating new forms of care that are acceptable and respected.
More on this topic