Complexity Mathematics, the EU and Global Governance
If supranational governance can't work in Europe, how can it possibly work for the world as a whole?
October 4, 2011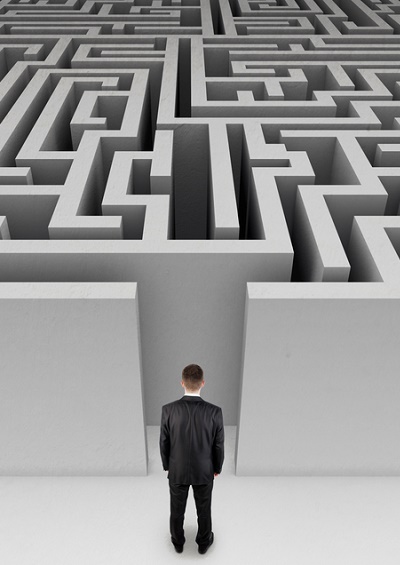 TijanaM - Shutterstock.com
I am not a mathematician, but I have learned that we must grapple with some key concepts in order to prepare ourselves for the challenges that lie ahead for our civilization — almost regardless of where we live. The first important principle to get our arms around is this: The more we grow, the more disorder we create.
While this may sound like some anarchical idea, it really is the thermodynamic principle of entropy. Likewise, the more disorder that we have around, the more variables we create. As a result, we constantly create more complexity, because the definition of complexity is the interdependence of the many variables involved.
Managing this complexity requires a completely different mental and scientific approach than the one we are used to. People tend to think in a linear fashion, simply because that's what we are used to doing.
We humans are adept at, and used to, understanding three dimensions: length, width and height. Why is this significant? Because that is what typical linear mathematics captures. Once you surpass three variables in mathematics, however, then you start entering complexity mathematics, which is completely different.
The complexity that mathematics brings to self-organized systems is a completely unknown area, because you cannot really predict the behavior contained in, or expressed by, such systems. Contrary to what one would expect, one cannot predict where the system goes based on how the variables change.
With all of that in mind, let us now turn to the global governance agenda. All of this math and systems background is key to thinking about this in the right manner.
It would be all too simplistic, and probably futile, to try to think about global governance in a linear way — as the European Union very much proves these days. Nobody can really say at the moment that the European Union is a success — at least in my view. It is incomplete.
It started from a utopian idea, to create an integrated market without an integrated policy framework in terms of economic and fiscal policy. No surprise, then, that we are currently stuck in an awkward and very uncomfortable middle. The idea behind it all remains powerful, even compelling, but the reality in the trenches is very muddy, at best.
The reason why much of the world, if not the entire world, has an abiding interest in the European Union's success is because it can be seen as the most advanced example we have of a possible attempt to reach global governance.
Global governance, in the ultimate analysis, is about the prudent sharing of resources, responsibilities and authority that is no longer organized along linear lines, i.e., those of nation states. Instead, authority, responsibility and resource management in such a post-national world flow in many cross-cutting, curved, elliptical and discontinuous ways.
In other words, global governance — even in the frame restricted to the EU — is a practical exercise in non-linear complexity management.
For that reason, whether the European project succeeds or fails — a very uncertain outcome in either direction at the moment — truly matters for the entire global community.
Simply put, if we are not able to make it work in Europe, how can we possibly make it work for the rest of the world? Europe certainly has sufficient cohesion, political will, experience and historical drivers working in its favor. That, in principle, augurs well for success. But, as we now realize, it is a project of stunning complexity.
And yet, making it a success in Europe is (almost) child's play compared to making it work on the global level. The complexity there is even bigger — because of the difference in the inequalities between the countries and the much higher number of them involved in the process.
In closing, if we have to think about a doable project for global governance, a worthy test case, if you will, is Europe. It shows us that, paradoxically, we must be prepared to forget about rules and about anything that is even remotely linear.
As mathematics shows us, that is not how the modern, already hypercomplex world really works. For all the comfort it brings to think in our accustomed, linear terms, we need to let go.
Are European leaders, are politicians in general, out of their depth in managing, or even comprehending, this process? Perhaps. But there may be a deeper reason why, in Angela Merkel, Germany has a woman as chancellor who is a nuclear physicist by training.
I don't personally know whether she knows how to handle such complexity dynamics, but at least she should since she trained in a highly complex field. Elsewhere, including in China, there are central bankers who have a rather refined sense of such complexity dynamics.
This gives us some hope that humanity will be able to cope. At the same time, we must be realistic. The challenge doesn't just lie in understanding all this complexity, although that alone is difficult enough.
Where it becomes truly fiendishly difficult is when it comes to designing, and successfully implementing, responses that help us manage the challenges at hand.
That, of course, requires enormous talent, instinct and sheer luck, for the vagaries of human behavior can always make mincemeat of the best-laid plans. Perhaps that is due to the fact that, by our instinct, nature and tradition, we tend to design linear answers to the complex questions we face.
A first, realistic step for all of us, and our political leadership, is to understand how the complex system evolves. Rather than despair in light of all this, which would be a very understandable human reaction, I think that the solutions are already apparent.
The way forward, I believe, has been shown by Adam Smith and his dictum about the invisible hand. It applies to far more than product markets and finds an especially fruitful use if applied to politics.
In some fashion, that is happening already, but in a manner that is quite uncomfortable for politicians to witness. It is happening largely by itself, in a self-organizing manner.
While it is thus definitely worthwhile for political leaders to start understanding how it would work, what is really required of them is something heretofore unseen — the willingness to let go.
My hunch is that politicians do actually have a sense of this. Like the citizens they represent, they are aware that our old ways — organizing processes and ideas in a linear, if not top-down, manner — can no longer work.
Once we embrace that insight, we are then prepared to make some real progress.
Editor's note: This essay was adapted from the author's presentation at the 2011 Salzburg Trilogue. Hosted by the Bertelsmann Stiftung, the Salzburg Trilogue facilitates international cultural dialogue by bringing together recognized public figures to consider matters of global importance.
More on this topic