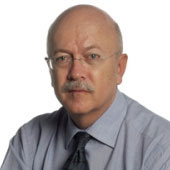 Writer, analyst and journalist
Andrés Ortega is an independent writer. He has been twice (1994 to 1996, and 2008 to 2011), director of the Department of Analysis and Studies (Policy Unit) in the President of the Government's Office (Spain).
He was a long time commentator and editorial writer for El País, the highest-circulation daily newspaper in Spain. He has also served as the paper's London and Brussels correspondent.
From 2004 to 2008, he was the director of Foreign Policy magazine's Spanish edition. He is also director of the Observatorio de las Ideas, a publication on ideas' mining. From 2014 to 2022 he was Senior Research Fellow at Royal Elcano Institute, Spain's main think tank in international affairs, in charge of technological transformations and global governance. He writes regularly in Política Exterior, Agenda Pública and El Diario.
He holds a degree in political science from the Complutense University of Madrid and a Master's degree in international relations from London School of Economics.
Among his publications are "La imparable marcha de los robots" (2017), "La fuerza de los pocos" (2007) and "La Razón de Europa" (1994). His first novel, "Sin alma" was published in Spain in 2012. He is presently writing another novel.
Articles by Andrés Ortega