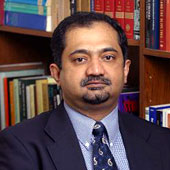 Assistant Professor, University of Delaware
Muqtedar Khan was born and raised in India as a member of the country's Muslim minority. After receiving an engineering degree from Osmania University in 1987 and an MBA in 1989, he was employed by Procter and Gamble in India.
After moving to the United States in 1990, he earned his Ph.D. in international relations, political theory and Islamic thought at Georgetown University. He then moved to the Midwest, where he served as the Director of International Relations and Chairman of the Political Science Department at Adrian College in Michigan.
Mr. Khan is currently an assistant professor at the Department of Political Science and International Relations at the University of Delaware.
He is also a fellow at the Center for the Study of Islam and Democracy and a visiting fellow at the Brookings Institution in Washington, D.C. He has previously served as managing editor for the American Journal of Islamic Social Studies.
Mr. Khan is the author of several books, including "Islamic Democratic Discourse: Theory, Debates, and Philosophical Perspectives," (Lexington Books, 2006), "Jihad for Jerusalem: Identity and Strategy in International Relations," (Praeger Publishers, 2004) and "American Muslims: Bridging Faith and Freedom," (Amana Publications, 2002).