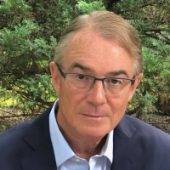 Ryan O'Connell spent his career on Wall Street as a lawyer, banker and for 25 years as a bond analyst for firms including Moody's, Citigroup, Morgan Stanley and Bloomberg. He specialized in banks and other financial institutions, both in the United States and abroad.
His professional background has given him an unusual perspective on the interplay between politics, economics and the markets.
Mr. O'Connell served as a senior vice president at Moody's Investors Service, covering large international banks. During the global financial crisis, Mr. O'Connell had a ringside seat covering banks as an analyst for the institutional research unit (sell-side) of Citigroup, when the bank almost failed. Mr. O'Connell also worked as a buy-side analyst at Morgan Stanley Investment Management and at Bloomberg LLP, as a research analyst.
A lifelong Democrat, Mr. O'Connell believes strongly in free capital markets but also the need for effective government regulation to tame the markets' occasional excesses. He has been writing a blog on politics, The Wall Street Democrat, for several years.
Mr. O'Connell is a graduate of Harvard University and the University of Pennsylvania Law School.