Fear of War Over Ukraine
All eyes on are Minsk as world leaders meet to decide the fate of Ukraine.
February 9, 2015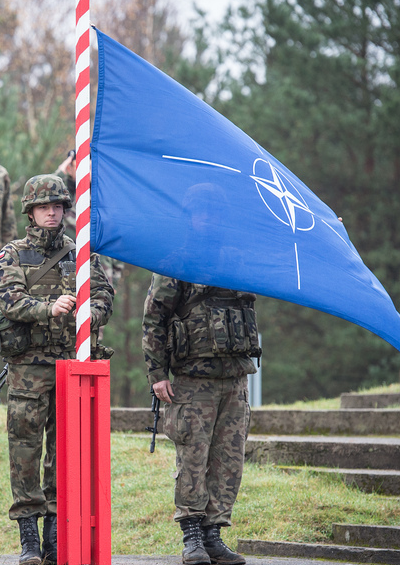 Credit: U.S. Army Europe Images - www.flickr.com
The sudden upsurge in Russian military equipment and Russian soldiers in Ukraine has inflamed fear of war in Europe.
German Chancellor Angela Merkel and French President Francois Hollande, who met with Russian Vladimir President Putin over the weekend, argued there is no military solution to the Russian invasion, but failed to reach agreement even on a cease-fire.
At the Munich Security Conference, Senators John McCain and Lindsey Graham demanded the United States and Europe supply arms to Ukraine to defend its territorial integrity, causing a rip in the fabric of transatlantic solidarity.
All eyes on Minsk
The wrenching policy dilemma between those calling for supplying arms to the Ukrainians and those demanding diplomatic talks to reach a cease fire is now focused on a meeting in Minsk on Wednesday with Putin, Merkel, Hollande and Ukrainian President Poroshenko.
The best description of the dynamic change in the undeclared war is escalation. Certainly Putin's support for the rebels' offensive that has seized more Ukrainian territory increased the death toll.
Merkel's offer for a common economic space between the EU and Putin's Euroasian Union seems to have fallen on deaf ears, despite Putin's own similar proposal from Lisbon to Vladivostok that he made in 2010.
An alternative to continued diplomacy is supplying arms that would increase costs to Putin of continued aggression. Before rushing into an arms escalation, several questions demand consideration.
Would a decision to supply arms confirm Putin's claim that the United States is the enemy? Or that such a deal would likely end sanctions and split the EU from us? If so, the decision could be two wins for Putin.
All people who respect human dignity are outraged by the deaths of some 5,000 Ukrainians and are sympathetic to the suffering of the Ukrainians fleeing from Putin's aggression. However, it is important to remember Putin became president of Russia after his brutal attack Chechnya.
The strength of the EU-U.S. response lies in its unity, which was confirmed by Secretary of State John Kerry in Munich but still remains open to question, as President Barack Obama meets with Chancellor Merkel and the EU talks in Minsk continue on Wednesday. A split would be another win for Putin.
Perhaps no transatlantic policy difference is more profound than this one: Debates over security in the United States are often cast in political/military terms, whereas Europeans emphasize political/diplomatic approaches to security issues.
Time and again these conflicting approaches arise in the security debates, but rarely is it as important as now when Putin's war is not simply in Ukraine. His attack is on the fundamental principles that have guaranteed peace in Europe for the past quarter century.
The U.S. approach to apply military action to political crises rests with the military as the most powerful tool it has. That political/military approach is described best as: "If you only have a hammer, every problem looks like a nail."
The German approach is that no problem can be solved by military intervention. Germany likes to believe it stands for peace and reconciliation and has faith it can negotiate — even with Putin.
Any realist in international security faces crises with both the diplomatic and military options open, while avoiding appeasement based on a European military option would take years to build.
War on the horizon?
In the meantime, the current NATO military maneuvers in new member states and in the Black Sea, as well as pre-positioned military equipment for the new spearhead force, begin to build that credible military option. It is essential to secure the credible response if Article 5 of the NATO Treaty is invoked.
Yet, in the case of the Russian invasion of Ukraine, Putin until now has eliminated the political option and the West has eliminated the military one.
The challenge for German and American leadership is how to crack open both options to secure at least a cease-fire that keeps diplomacy alive for Ukraine. After today's Merkel-Obama meeting we will know what the decision – military action or diplomatic action – will be on the table in Minsk.