Greece: Help from Putin?
How realistic are Greek announcements about a big energy deal with Russia?
April 20, 2015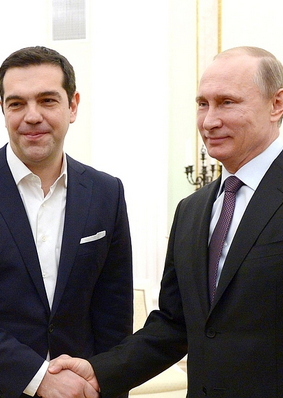 Credit: Пресс-служба Президента России - WikiMedia Commons
Don't get overly excited about a story in some Greek and German media that Athens may get a €3-5 billion cash advance from Russia soon. First, a top Russian official poured cold water over these stories over the weekend. Second, such money would probably buy Greece time to make it to July without having to choose between Grexit or accepting EU/ECB/IMF conditionality.
But it would not change the underlying situation. Greece will not have access to bond markets for a long time to come. To pay its bills and avoid Grexit, it will have to strike a deal with its official creditors — that is, Europe and the IMF.
An unlikely tale
According to media reports, the Russian money would be an advance payment on future transit fees for a natural gas pipeline to be built partly through Greece by 2019. Well, 2019 is a long way into the future.
I would be surprised if Russia were really to pay Greece such an amount of money four years in advance for a risky project which still needs to be vetted by EU regulators.
Whatever the occasional daydreams of some Greek officials, it is extremely unlikely that Athens could get the additional €25-30 billion support package which it will likely need over the next 2-3 years, before it can fund itself on markets again from any other source than Europe and the IMF.
And to get a deal with its official creditors, the new Greek government will by and large have to return to the policies of the old Samaras government which had started to bear fruit last year.
At the IMF/World Bank meetings late last week, virtually everybody seemed to be telling the Greeks that they better get their act together and strike a deal with their official creditors.
Even U.S. president Obama, after some sort of non-committal comments first, re-affirmed that message shortly after meeting the Greek finance minister.
In the end, Greek Prime Minister Tsipras will have to make up his mind what he really wants — modernize his country or crash it into the abyss of Grexit.
More on this topic