Mohamed Bouazizi: The Spark that Ignited the Arab Spring
How did a humble Tunisian fruit vendor unleash a tide of protest throughout the Arab world?
December 28, 2011
How did a humble Tunisian fruit vendor unleash a tide of protest throughout the Arab world?
1. How did the revolution begin?
"It began when the 26-year-old Tarek Mohamed Bouazizi immolated himself in front of the governor's offices in the Tunisian town of Sidi Bouzid last December, after his merchandise was confiscated."
2. What exactly happened?
"Bouazizi flicked his lighter on at 11:30am on December 17, 2010, one hour after a policewoman, backed by two municipal officers, had expropriated his two crates of pears ($15), a crate of bananas ($9), three crates of apples ($22) and an electronic weight scale ($179, second hand)."
3. Why did Bouazizi respond by immolating himself?
"While a total of $225 might not appear to justify suicide, the fact is that, as a businessman, Bouazizi had been summarily wiped out."
4. How so?
"Without those goods, Bouazizi would not be able to feed his family for more than the next month. Since his merchandise had been bought on credit and he couldn't sell it to pay his creditors back, he was now bankrupt. Because his working tools were confiscated, he had lost his capital."
5. What happened next?
"Before a few weeks passed, many of the 180 million Arabs who work in and around the informal markets in the Middle East and North Africa were identifying with his disempowerment and sending their shouts to heaven."
6. Why did his story resonate?
"Like 50% of all working Arabs, he was an entrepreneur, albeit on the margins of the law. He died trying to gain the right to hold property and do business without being hassled by corrupt authorities."
7. In other words, what really triggered the Arab Spring?
"Not enough credit has been given to the mighty consensus that triggered the uprising — the desire of a vast underclass of people to work in a legal market economy."
8. What lesson does Bouazizi's story hold?
"The powerless can crystallize into a revolutionary class when they become conscious that they share a common suffering — and especially when a martyr embodies that suffering."
9. What lesson should the region's political leaders take to heart?
"Political leaders must realize that, since Bouazizi went up in flames and his peers rose in protest, poor Arabs are no longer outside but inside, in the market, right next to them."
10. And finally, what happens if reforms fail?
"If the agenda does not include tackling the nitty-gritty institutional deficiencies that make most Arabs poor, they will eventually open the doors to the anti-democrats and enemies of modernity who fight democracy and modernity in their name."
Editor's Note: The quotes in this Read My Lips are drawn from Mr. de Soto's November 8, 2011 op-ed in the Financial Times.
Each edition of "Read My Lips" presents quotes made by the featured individual at the time specified in the answers. However, it is a "virtual" interview only — insofar as we have added questions in order to provide a better context to the thoughts expressed.
More on this topic
Read previous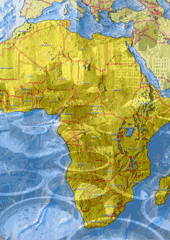 East Africa: Left Behind
December 26, 2011