Pakistan Looking Into an Uncertain Future
Travelers gazing out of the Khyber Mail train's windows in Pakistan.
November 9, 2013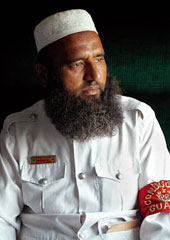 Credit: Sam Phelps - The Other Hundred
Editor's note: This feature is part of a project called "The Other Hundred." You can get a copy of the book here.
The Khyber Mail train service — named after the famous pass linking Pakistan to Afghanistan — runs daily from Peshawar in northern Pakistan's Khyber Pakhtunkhwa province, south through Punjab province, to Karachi, Pakistan's largest city, at the southern tip of Sindh province on the Arabian Sea.
Over a thousand miles long and taking 35 hours to complete, the line has operated continuously since 1947, when Pakistan established its independence.
Photographer Sam Phelps — in a gallery from the book The Other Hundred — captured images of these travelers gazing out of the Khyber Mail train's windows.
Brothers Mairaj Hassam, 7 years old, Siraj Hassam, 3, and Shabbir Hassam, 10, traveling with their sister, Tatheer Fatima, 4, between Rawalpindi and Karachi. The children are returning with their mother, father and 18-month-old brother to their home in Karachi after visiting relatives in northern Pakistan's mountainous Baltistan region.
---
Poultry farmer Sadiq Hussain, 50, traveling from Rawalpindi to Karachi, on his way home to Sahiwah after visiting a friend. He has four children — two sons and two daughters. His leg was cut off at the knee in 1999 because of cancer. "The government cannot help us. We are poor people and have always been poor people. Nobody can help us."
---
Quran teacher Muhammad Ali Johari, 22, and his 18-monthold son, Murtaza, travelling from Rawalpindi to their home in Karachi, along with his wife and his other four children – the quartet of the previous two pages. "This country is like the train system – inefficient and poorly managed."
---
Ghulam Farid, 60, traveling from Karachi to Peshawar. The father of six daughters, he has worked as a porter in Multan for the last 40 years. "Corruption is a big problem in Pakistan. I don't believe that the government can help us."
---
Train conductor Muhammad Baghah Mughal, 43, traveling from Rawalpindi to Karachi. He has worked for Pakistan Rail for 22 years and has three children, a son and two daughters. "Pakistan is a beautiful country, its problem is the government and its president. The politicians are not good for Pakistan. I want a simple life, enough money to eat, relax and pray."
---
Pilgrim Habibal Wahab, 75, traveling from Peshawar to Karachi. He will fly from Karachi to Mecca as part of his Umrah, a lesser pilgrimage, during the Muslim holy month of Ramadan. He has six children, one of whom is in the army. "I hope things improve in Pakistan. The prices keep going up, life becomes more expensive."
---
Ali Hussan Block, 20, traveling from Rawalpindi to Karachi. He has two children and has been selling tinned cakes, a specialty from Multan, on Pakistan Rail trains for the past eight years.
---
More on this topic
Takeaways