Radek Sikorski: Europe's Next Top Diplomat?
Why Poland's foreign minister should become Europe's new foreign policy chief.
May 11, 2014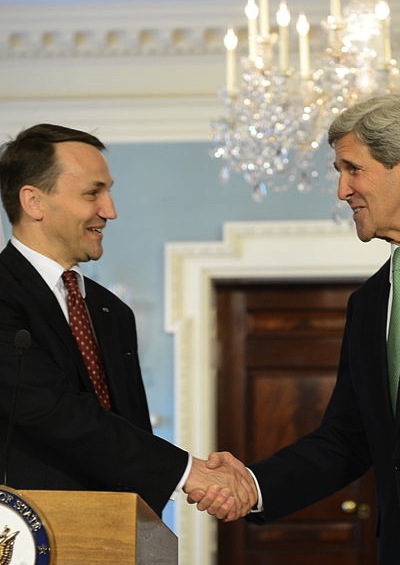 Polish Foreign Minister Radoslaw Sikorski and U.S. Secretary of State John Kerry. (Credit: U.S. Department of State)
There is no denying that Radoslaw Sikorski, Poland's rock star foreign minister, has been running for higher office pretty much his entire career. In one way or another, that is of course what all politicians do. But some do it harder than others.
Despite the relentless self-promotion, there is an endearing side to these climbers – at least the gifted ones. Rather than endlessly bemoaning what's wrong, they optimistically try very hard to achieve something useful and constructive, often against long odds.
Radek Sikorski is one such politician. Translated into the European political landscape, there is something positively Bill Clintonesque about Radek Sikorski. Both men elicit strong reactions – positive and negative. Sikorski is impressive to begin with, and tries very hard to impress people even more.
And he has the courage of his convictions. Like Clinton, he isn't afraid to speak out, even if it's not necessarily popular in the forum he addresses.
An "outsider" – like Bill Clinton
While Clinton hailed from America's South, Sikorski hails from Europe's East. Both regions have long been regarded by non-natives as backwaters. In fact, both regions are old cultural lands. However, they are generally not favored as a launching platform for truly high office.
Perhaps not so coincidentally, for both men, living in Washington, D.C. was an important part of their genesis: Clinton studied in the School of Foreign Service at Georgetown University in the late 1960s. Sikorski, in turn, was a (then) very conservative European man about town from his perch at the American Enterprise Institute from 2002-2005.
Disillusionment with America
However, while that period was important in raising his profile as a politician on the world stage, a key part of Sikorski's evolution as a strong pro-European has actually been his gradual disillusionment with the United States.
An erstwhile ardent defender of anything American, his time in office – first as Polish Defense Minister, then Foreign Minister since 2007 – has cured him from his erstwhile excessive affliction for things American.
Much of this was chalked up to Polish disillusionment about trying to obtain visa-free travel for Poles when they want to go to the United States. That, to Poles, is considered a key measure of having arrived on the global stage.
But Washington has not budged, despite Poland's faithful service at the American side in Iraq and Afghanistan and the consistent application of diplomatic pressure from Warsaw. The United States, as it stands, must be afraid of the proverbial "Polish plumber" – or be convinced it doesn't need one.
Given the difficult relationship with the United States, Sikorski has found where his real loyalties lie – in Europe. Having drifted away from the Americans (and the euroskeptic Brits) has made a European ascent look very attractive to the perennial climber.
Doors closing?
Those who are simply opposed to Radek Sikorski's further rise, regardless of his views on the EU, take solace in the fact that the list of options available to him for higher office keeps getting smaller. But they may actually miss the real exclamation mark to his career.
Sikorski detractors happily celebrate 2009, the year when he desperately wanted to be become Secretary General of NATO — only to lose out to colorless, but effective Anders Fogh Rasmussen of Denmark. The latter was considered an unthreatening pair of hands, as much as a safe pair.
Then, in 2010, Sikorski ran for another post. In the race to be the Civil Platform Party's candidate for Poland's presidency, he faced off against — and lost — to then-parliamentary speaker (now Polish President) Bronislaw Komorowki. There were some very Polish concerns about electing an international "high flyer."
And earlier this year, former Norwegian Prime Minister Jens Stoltenberg was named to replace Denmark's Rasmussen in the NATO post on October 1. Although Sikorski was not widely considered to be in the running this time, the appointment removes that coveted post for at least another five years.
The real capstone
Now Sikorski is reportedly hot on the trail to replace Catherine Ashton as the EU High Representative for Foreign Affairs and Security Policy when her term comes to an end later this year. And the key question is: Why not?
After the unexciting Lady Ashton, European foreign policy could benefit from a more publicly appealing envoy. Someone who can communicate clearly with the European public at large and someone who can shape a 21st century European identity – rather than just acting, for the most part, as the chief negotiator, as Ashton did throughout.
The European "foreign minister" position was strengthened in the Lisbon Treaty in 2009. It is a role almost tailor-made for Sikorski to play on the world stage. The challenge for Sikorski is to go all out for this position, without appearing to do so.
In many respects, Sikorski has the profile, energy and vision to turn this position into an instrument for forging a truly European foreign policy. Many feel such a change is in order after five years, especially as the EU faces a tide of skepticism from within and a resurgent Russia in its neighborhood.
A penchant for boldness
Sikorski also has a penchant for boldness, even courage, in defending the ideal of European integration.
The real problem Sikorksi faces is that the EU foreign affairs supremo job is more a UN Secretary General than a new-look Talleyrand or Metternich. He has to find consensus.
If, for example, Cathy Ashton had ever said anything beyond what was acceptable to at least the UK Foreign Office, the Quai d'Orsay in Paris or the Auswaertiges Amt – the German foreign ministry — she would have been cut off at the knees.
Her low-profile, unchallenging but hardworking style has helped bring western powers together on Iran, on Syria and on Ukraine. She has brokered a deal between Serbia and Kosovo, which no single EU foreign ministry could do.
The key question for Sikorski is this: Will Laurent Fabius, France's not overly modest foreign minister, and Walter Steinmeier, Germany's foreign minister, really want to see an activist and outspoken Sikorski stealing their thunder?
How much longer will he be permitted to place Warsaw in the same tier as Berlin or Paris for diplomatic efforts? Even though Europe may need it, and the European public may want it, will his colleagues let him get away with it?
More on this topic
Read previous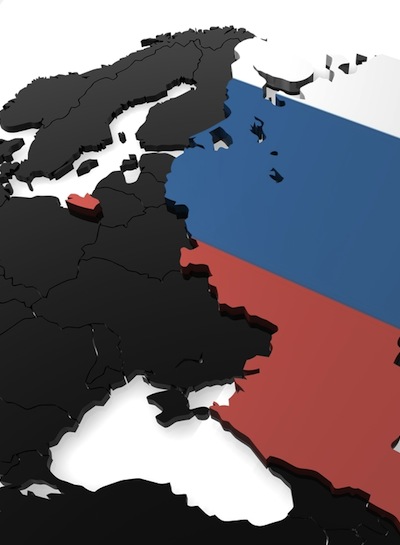 The EU Saved Poland from Ukraine's Fate
May 10, 2014