Reasons to Have Hope in Haiti, One By One
Do all the negative statistics about Haiti obscure the humanity and hope of the people there?
June 23, 2013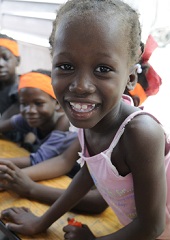 Haitian schoolchildren (Credit: arindambanerjee - Shutterstock.com
More than most countries, Haiti seems to be defined by its statistics:
80% of the population below the poverty line
The poorest country in the Western Hemisphere
316,000 killed in the 2010 earthquake
52.9% literacy rate
The average Haitian earns $1,300 per year
We could go on.
On numbers alone, one is tempted to think of Haiti as a lost cause — a hopeless monolith of misery not worth our time or concern. That's where a lot of people begin and end on Haiti.
But to all of us who find ourselves discouraged or overwhelmed by data (myself included), I encourage you to seek out the human beings behind the statistics.
In a more general sense, I challenge all of us to reject the temptation to write off any group of people as faceless, homogeneous masses.
The world is an infinitely better place when we recall that countries are made up of children, parents, teachers, neighbors and other complex, unique human beings worthy of respect.
Although it's still difficult to empathize with a situation you have not experienced yourself, it does help to meet people.
Last year I got the chance to meet many of the real people who comprise Haiti on a trip with the organization I work for, Food For The Poor.
On my latest trip, I met and was inspired by doctors and nurses, agricultural specialists, fishermen, teachers, community leaders and business people.
All of them seemed to share concerns and hopes that would sound remarkably familiar to most Americans: being able to find steady work, having a decent place to live, making sure their children receive a good education.
I saw the glitz of Petionville, the mountainous, wild beauty of Haiti's countryside — and also some of the worst living conditions I've ever seen. Everywhere we went however, we met human beings.
In Port-au-Prince, not far from the National Palace, we met a young mother whom I'll call Jeanne.
She lives in a tent with her mother, her 3-year-old daughter and 9-month old son, William.
They are among the estimated 320,050 people still living in tents since the 2010 earthquake flattened an unbelievable number of homes in and around Port-au-Prince.
Their tent is not one of those nice Coleman tents a tourist might take to Yellowstone National Park in the United States — although one of their neighbors has one like that. Rather, it's basically a tarp held up by poles.
Jeanne and her small family were living 15 miles away, in Fort National, when the earthquake struck. They lost everything in the disaster, which forced them to take refuge in the stifling, flimsy, dirt-floored place they have called home for over three years.
William had been to the hospital recently. He still had an IV in his arm. He was incredibly tiny, fragile-looking and adorable.
His mother and grandmother do the best they can to provide for him and his sister, but with little education and few resources, they struggle to make even a couple dollars a day washing laundry for people.
An impossibly grim situation for most, this family seemed determined not only to survive but also to make its way to a better life somehow.
All this despite the fact they had just been informed by local officials that they would need to vacate the premises within three weeks in order to make way for a new school.
But new schools are also actually a reason to hope.
I witnessed the inauguration of a new school funded by Food For The Poor donors that will be able to accommodate 140 students in Morisseau — a village that takes three hours of winding, mountain driving from Port-au-Prince to reach.
At this celebration, I spoke with a local pastor who had also been named the school's director.
He beamed with pride as he laid out his hopes and aspirations for this isolated place — the kind of small village that tends to be forgotten by the rest of the world.
"Since this school has been built, now everyone wants to come here," he said.
I met more families in rural areas like Grand Boulage and Thomazeau, some of whom told me they have to walk for at least two or three hours each day to collect water. I met children who dreamed of becoming teachers, engineers and police officers.
One mother who lived in a mud house told me, "I will pray for you," as we were leaving.
In Port-au-Prince, I met a man originally from Argentina who fell in love with a Haitian woman and decided to stay in the country.
He married her and they now run an orphanage together.
Statistics convey very little about Haiti's complexities and even less about its resilient people. Numbers and statistics have limitations. However there is one figure in particular that seems helpful and instructive: one.
I know it is a cliché but it's absolutely true. Bono, Bob Marley and many others have touched on this, but Mother Teresa said it best. To paraphrase: "If you can't feed 100 people, feed one."
No one can care for or about 10 million people in the abstract, but everyone can care about at least one person.
Intimidating data, numbers and figures have a bad habit of obstructing this simple truth and the hope it carries.
More on this topic
Read previous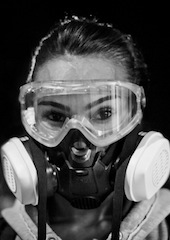 The View from Taksim Square
June 21, 2013