The View from Taksim Square
What experiences did protesters in Istanbul go through during the June 2013 protests?
June 21, 2013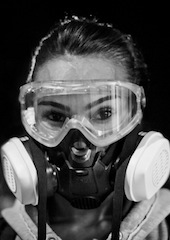 Protester in Istanbul's Taksim Square (Credit: Colin Boyd Shafter)
Turkey has made impressive progress in recent years. But the events of June 2013 have shown how fragile these achievements are. No country can realize its full potential if large numbers of young people are disaffected and frustrated by political leaders preferring a heavy hand over the only currency that counts — real dialogue.
In the scenes below, photographer Colin Boyd Shafer captures vignettes from the anti-government protests in Istanbul's Taksim Square.
Click on any photograph to enlarge.
Preparing for how she will handle tear gas when it arrives.
As clashes with police continue into the night, this young woman is ready for whatever comes.
Police take a break during a heavy offensive in Taksim Square on June 11th.
A young man sleeping high in a tree. The original group occupying the park were primarily environmentalists.
Contemplating, having a smoke and reading the news of the past days' events.
In the middle of a night of heavy teargas a young couple expresses their love.
Called looters by Prime Minister Erdogan, this young man gives away free cigarettes to show how giving the protesters can be. Their tents were removed violently by police on June 16th.
A group practices Yoga in the heart of the park demonstrating what would be lost if a shopping mall were there.
The night time was often stressful as clashes with police were heightened. After days of protest, many of those occupying the park and square looked exhausted during the daytime.
These photographs have been published by arrangement with the photographer, Colin Boyd Shafer. More of his work is available at his website.
More on this topic
Read previous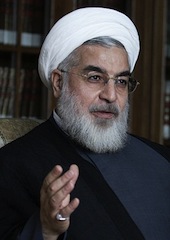 Rohani's Presidential Pulpit
June 20, 2013