Relishing the Radish
A cultural and culinary history, plus: A recipe for radish, parsley and goat's cheese salad.
July 4, 2021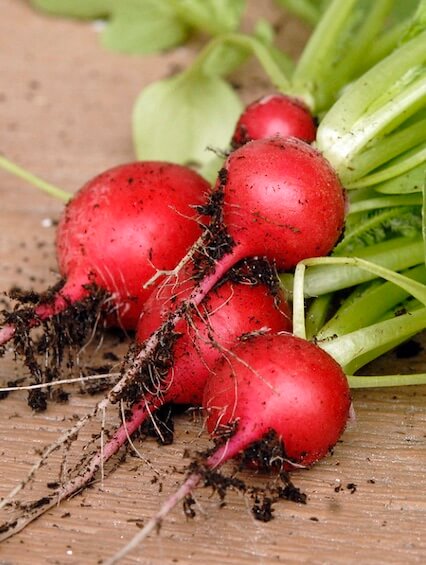 Radishes may be small, but they are members of the very big Brassicaceae family, led by cauliflower, cabbage and broccoli, with horseradish eye-wateringly bringing up the rear. They are an ancient vegetable, found in Europe well before the Romans.
Yet evidence establishing their origin and the passage of their domestication is vague. Only in the 1st century AD do Greek and Roman records mention the radish.
The first
But it has a long pedigree and was one of the first European crops introduced to the Americas. That seems a bit of an esoteric choice, considering that a pilgrim must surely be scrupulously
picky when packing his pioneer luggage. ("Ooh. I mustn't forget the radish seeds!" is not a scenario I can picture.)
Radishes exhibit a diversity of skin colors and varieties.
The several varieties
From 1548 until the early 19th century, the most common kind of radish in Europe was the black-skinned Spanish radish that came both round and elongated.
Nowadays, skin colors can run from black and white to green via red, pink, purple and yellow. But each one of them is white inside – apart from the green watermelon radish whose flesh is pink.
There are hundreds of varieties. An ordinary seed catalog will probably offer at least twelve of the round or long sort. Explore further and you will come across the Asian kind.
Originally from Southeast Asia
Different varieties have been discovered in India, central Asia and central China.
Scientists have settled on Southeast Asia as the most likely source of the original Raphanus sativus. Why? Because it's the only region in the world in which the radish is found in its pure wild form.
It was China, not Japan, that developed the large white and mild variation of the radish familiar to the West as the daikon or Indian mooli. The Chinese grew it to produce oil.
But the Japanese have radish talent, too. If you are really keen to feed an army on them, seek out the Sakurajima Japanese radish. It can reach 3 feet long and weigh 45 kg or 100 lbs.
As far back as 1544, a German botanist reported similar radishes, also 3 feet long and 100 lbs in weight. It's unclear if they were that same variety and how on earth he dug them up.
An ancient but a modern "green" vegetable
Versatile vegetables, they can be grown as companion plants to deter aphids and other pests and diseases.
They also make a good cover crop to protect the soil during the winter, the green leaves being forked in to create a compost in early spring.
While we tend to eat only the root whole and raw, the radish offers cooking possibilities.
The leaves can be treated like spinach and stewed in the water, which clings to their leaves once you've washed and drained them well, with a little oil and some finely chopped garlic and red pepper flakes or dressed as a salad.
The Koreans and the Japanese pickle their large, white skinned daikon or 'mu' in Korean. (It's worth making space in your cupboard for a sachet of pickled daikon.
'Takuan' in Japanese or danmuji in Korean, if you need to ask someone behind the counter. Slices of it are as easily munched like peanuts, just standing at the kitchen counter.
You can also treat radishes like a milder flavor turnip, baking or roasting them in a little stock and butter.
Recipe
Here's a refreshing summer salad you can play around with, threading through very thin slivers of spring onion or fennel or celery for extra crunch, dobbing on splats of soft goat's cheese or pressing into it strips of Parma ham or smoked salmon. Or not.
Whatever takes your fancy. It's a vibrant salute to summer.
2 bunches of French breakfast radishes
approximately 250g or ½lb 2 tablespoons medium shallots peeled and finely minced
flaky sea salt to taste
about 1 teaspoon 1½ tablespoons sherry or white wine vinegar
2 tablespoons light olive or vegetable oil
1 tablespoon hazelnut or walnut oil for flavoring
a good handful of flat-leaf parsley leaves 2 tablespoons toasted hazelnuts
lightly crushed dollops of soft goats cheese or 55g or 2oz Cabécou or other chalky goat cheese, crumbled (optional)
Wash and dry the radishes. Trim off their greens then thinly slice the radishes – very carefully if using a mandolin (I lost the side of my thumb once-upon-a-time) – reserving the leaves to cook as spinach.
Transfer to a bowl along with the shallots and salt, toss to combine.
In a bowl, whisk the oils and vinegar until emulsified. Add the parsley, hazelnuts and dressing to the radishes and toss gently again.
Spread across a platter, top with the goat cheese, and serve with a crusty baguette. And some very cold butter.
More on this topic
Takeaways
Radishes were one of the first European crops introduced to the Americas.
Southeast Asia is the only region in the world where the radish is found in its pure wild form, indicating its likely origin.
Radishes can be grown as companion plants to deter pests and diseases. They also make a good cover crop to protect the soil during the winter.