Rousseff, Brazil and Global Leadership
Is President Dilma ready for a change of course at home and abroad?
November 18, 2014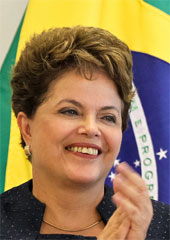 Brazilian President Dilma Rousseff. Credit: Roberto Stuckert Filho/PR-Flickr
In late October, a slim majority of Brazilians chose to re-elect President Dilma Rousseff, but it is not clear that Brazil has decided how to move forward.
Most Brazilians are frustrated with the country's sluggish economic growth during Dilma's first term. Many of Dilma's own supporters want the state to take more aggressive measures to reboot the economy during her second term.
Others, including supporters of her challenger Aécio Neves of the Brazilian Social Democratic Party, want to shrink the size of the state and further liberalize trade and investment policies in order to drive growth through expanding export markets and increases in foreign direct investment.
That at least is the path chosen half a world away by India's new leader, Narendra Modi. Brazil cannot afford to do any less than India.
Still, it is not clear that either policy model can overcome the headwinds Brazil faces from the global economic downturn. But try the country must, in particular with regard to inviting greater productive investment.
That is necessary in order to successfully reposition Brazil on a path to sustained growth and meet everyone's expectations.
What will President Dilma decide?
Managing the deteriorating conditions of the external sector would challenge any government. What makes this all the harder for Dilma Rousseff's administration is that it must also contend with a rapidly increasing budget gap. It is larger now than at any time since the Workers Party (PT) took control of the federal government in 2003.
Dilma and her policy team must prepare to brace against the perfect storm that could submerge her second term in economic failure.
The consequences of that would be monumental: Most important, it would undermine the very social policies that have eliminated hunger and moved millions of Brazilians away from extreme poverty and bury Brasilia in turmoil.
Saving Social Policies
In an effort to preserve the country's social policies, Brazil's governing coalition is unlikely to tack toward the deep fiscal consolidation advocated by the IMF.
However, government expenditures will need to be recalibrated so as to maximize immediate growth and create the conditions for continued public investments in education and infrastructure, as well as the "internationalization" of Brazilian private firms.
Even so, the government may well run into real limits to its spending in the next couple of years. This makes private investment all the more important.
To weather the storm and neutralize speculative investment, the government this time around will hesitate to reestablish capital controls. It is more likely that Dilma's government, in coordination with the government banks, especially BNDES, will intensify consultations with financial and industry leaders to increase investments and productivity.
Dialogue for investment
Such an initiative, if indeed it materializes, cannot be launched soon enough. Brazilian industry must focus investments on greater workforce development and training, productive innovations, and moving the industrial sector toward participation in higher valued added global production chains.
These outcomes are possible during the last half of Dilma's second term, but they can only be achieved through dialogue, negotiation and joint planning. The players involved are her economic policy team, the government development bank BNDES, as well as private sector leaders committed to increasing private sector industrial investment.
Reducing the "Brazil Cost"
Dilma's goal for her second term must be to reboot the economy and drive sustainable growth with a fiscally prudent mix of public investments, greater regulatory flexibility and private sector incentives.
To achieve that, she must focus efforts on eliminating those obstacles that interfere with private investment, both domestic and foreign, as well as the transfer of technology.
This means that she must make Brazil's opaque taxation and customs systems more transparent and efficient. Properly understood, measures such as this are not pro-capitalism and/or anti-poverty.
They are key to strengthening Brazil's economy in such a manner that it generates the growth that will help Brazilians make the most of the nation's potential.
Thus, President Dilma's second term administration must drive through reforms that lessen the costs of doing business with an eye on the export prize. Important as that is, this alone won't be enough.
Making the global economy work for Brazil
Brazil's recovery also depends upon the global economy and it is here where the re-elected President could choose to exert her leadership on the global level. She should focus the world's attention on the pressing need to expand and deepen global demand for Brazilian commodities and industrial goods.
Now that the skilled Brazilian diplomat Roberto Azevedo has taken over the reigns of the WTO, President Dilma must harness Brazil's global political stature to refocus both the developed world and leading emerging economies on the benefits of multilateral trade liberalization.
Brazil can no longer afford to lackadaisically advocate for a resolution to the Doha round without making mid-course corrections in its trade policy. It must achieve both short and long term increases in market access for Brazilian goods and services.
President Dilma finds herself in a jam, but to win sustainable economic development and growth, she needs to find her global voice. She will need to sing the praises of deeper global integration that aligns investment with comparative advantages.
Her Workers Party's government program does not clearly propose greater global leadership for the Brazilian president or more global integration for its economy.
Rewriting the Workers Party script
To succeed, Dilma will need to rewrite the existing script. She has to advance a foreign policy that effectively advances the country's economic and political interests with a dual focus – Brazil contributing more to the global economy and increasing the returns from it to Brazilians.
The upcoming G20 leadership summit in Brisbane, Australia, offers the perfect opportunity for Dilma to deliver a strong global message. She will also meet with U.S. President Obama to place bilateral relations on a more productive footing.
At Brisbane, she can highlight Brazil's impressive recent record of implementing demand-side policies that redistribute income. She can explain that doing so not only furthers social justice at home, but it also drives an idle global economy forward.
These policy positions have always framed the Workers Party project in Brazil. Now, President Dilma must find ways of globalizing these policies so that Brazil can harness all of its comparative advantages on behalf of its citizens.
She can no longer serve Brazil by sticking to her old habit – burning the midnight oil in the cloistered confines of the Presidential Palace. That, in fact, is a Chief of Staff's job description – notably the position she occupied during Lula's presidency.
Dilma Rousseff entered the Presidential office to administer a national growth agenda in the aftermath of the global financial crisis. Today, she cannot lose sight that Brazil's future is now inextricably connected to the rest of the world.
Brazil's president overcame military dictatorship and torture, she survived cancer – and she narrowly escaped electoral defeat last month.
Despite the obstacles, including her own personal reluctance to move toward the center of the global stage, Brazil needs her to overcome them to advance Brazil's national development by seizing the opportunities from economic globalization.
Former President Lula did not just show – but indeed embodied – Brazil's potential to be a global leader. Now it is time for Dilma to move on to global prime time before she runs into a dead end at home.