Ukraine: Why Letting Go Is So Hard For Russia
The West and Russia both have vested interests in Ukraine's future.
March 17, 2014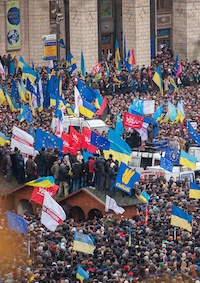 Euromaidan anti-government protests in Kiev, December 2013. (Credit: Nessa Gnatoush - Wikimedia)
1. Western nations want to keep Ukraine from becoming a failed state.
2. Ukraine is as poor as Paraguay — and as corrupt as Iran.
3. During the 20th century, Ukraine was home to a deadly famine under Stalin (the Holomodor in 1933) and a historic massacre of Jews (Babi Yar in 1941).
4. Ukraine was home to one of the world's worst nuclear disasters (Chernobyl in 1986).
5. Ukraine's credit rating is down to CCC — a rating for extremely speculative investments with a high likelihood of default.
6. Russia has sought a role in the rest of Europe since the reign of Peter the Great in the early 18th century.
7. An alliance with Ukraine preserves that. Without Ukraine, Russia ceases to be a Eurasian empire.
8. Ukraine is probably more integrated with the Russian economy than any other former Soviet republic.
From The New Great Game: Why Ukraine Matters to So Many Other Nations by Peter Coy, Carol Matlack and Henry Meyer (BloombergBusinessweek)
More on this topic
Takeaways
Read previous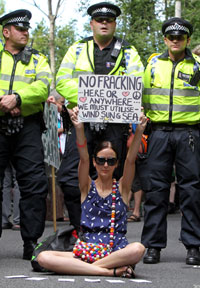 U.S. Fracking and the Russian Bear
March 17, 2014