Africa's Unretiring Leaders
Which current African leader has led his country the longest?
December 26, 2013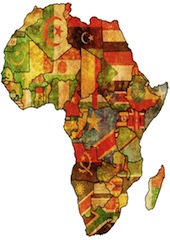 Credit: michal812 - Shutterstock.com
Africa — especially its northernmost countries — has been the site of much turmoil and change in recent years. The Arab Spring ended the reign of three of the continent's longest-serving rulers.
We wonder: Which current African leader has led his country the longest?
[toggle title_open="A. Yoweri Museveni of Uganda is not correct" title_closed="A. Yoweri Museveni of Uganda"]
With the ousting of Egypt's Hosni Mubarak and Libya's Muammar Gaddafi in the Arab Spring revolts of 2011, Uganda's Yoweri Museveni is now Africa's fifth-longest-serving national leader. Mubarak and Gaddafi had been in office for 29 and 42 years, respectively, at the time of their ouster.
Sworn in as president on January 29, 1986, Museveni has held the post for almost 28 years so far. He was once hailed by Western governments as a champion of equality and democracy — and rewarded with generous aid as a result. However, Museveni's long tenure has led to an erosion of Ugandan democracy.
Museveni emerged as a leader in the era following the downfall of the military dictator Idi Amin. Amin, who was one of the most brutal of Africa's post-colonial leaders, seized power in a coup in 1971 and ruled the country for the next eight years.[/toggle]
[toggle title_open="B. Robert Mugabe of Zimbabwe is not correct" title_closed="B. Robert Mugabe of Zimbabwe"]
Robert Mugabe's 33 years as the leader of Zimbabwe makes him the third longest-serving African head of state. At the age of 89, he is also Africa's oldest head of state. Cameroon's Paul Biya has the fourth-longest tenure, at 31 years in office.
Mugabe was elected prime minister of Zimbabwe in early 1980, shortly after the conclusion of its war of independence from Britain and the overthrow of the 14-year-old white minority government of Rhodesia.
The office of prime minister was abolished in 1987, and Mugabe assumed the office of president — the job he has held ever since. He was most recently re-elected in 2013, amid allegations of election fraud and violence and intimation directed at his political opponents.[/toggle]
[toggle title_open="C. Idriss Déby of Chad is not correct" title_closed="C. Idriss Déby of Chad"]
Emerging regional power Chad, a former French colony in Central Africa, has been governed by strongman Idriss Déby since December 1990.
A former chief of Chad's army, Déby seized power after his insurgent faction seized control of the capital during one of Chad's many rebellions. He has remained in control despite several more uprisings since then, bringing him to 23 years in office, and making him the ninth longest-serving African leader. Worldwide, he is among the longest-serving 15 leaders.
Chad currently plays de facto host to refugees and rebels alike from neighboring Sudan and Central African Republic and has often been affected for many years by events in Libya, on its northern border. Residing at the intersection of the Sahara, the semi-desert of the Sahel, and Central Africa, Chad's people are primarily dependent on subsistence pastoralism and agriculture.
Since the mid-2000s, Chad has been an oil producer, exporting to both Western countries and China. By using the oil revenue to strengthen his military after decades of chronic instability, Déby has positioned the country as a major player in regional security affairs of the Sahel and Central Africa regions. [/toggle]
[toggle title_open="D. Teodoro Obiang of Equatorial Guinea is correct" title_closed="D. Teodoro Obiang of Equatorial Guinea"]
Equatorial Guinea is a small, resource-rich nation on the west coast of Africa. Prior to gaining its independence from Spain in 1968, the colony mostly exported cocoa, timber and coffee.
The discovery of large reserves of oil in the mid-1990s led to many years of rapid economic growth. Equatorial Guinea is now the sixth-largest oil producer on the African continent.
As a result, the country now has the highest per capita GDP of all nations on the African continent (at $26,487 in 2012, according to the IMF). However, the country's wealth is largely concentrated in the hands of the elite — the richest of whom is President Teodoro Obiang.
Obiang seized power from his uncle in a military coup in August 1979. His 34 years as head of state makes him the longest-serving leader in Africa – and, with the fall of the longtime leaders of Yemen and Libya, the longest-serving leader in the world. Obiang has been in office just a month longer than Africa's second longest-serving head of state, President José Eduardo dos Santos of Angola.
Over the years, Obiang has enriched himself and his family off of Equatorial Guinea's oil and resource wealth. They are known to own mansions in France and Malibu, California, as well as yachts and luxury cars. Meanwhile, over 60% of the nation's one million people live on less than $1 a day, according to estimates by the UN.[/toggle]
More on this topic
Read previous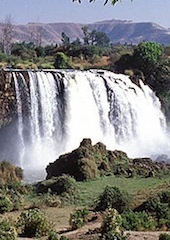 Is It Time for Ethiopia?
December 26, 2013