Australia's Great Fire and Biblical Justice
The images from the Sydney skyline are so indelible not because the city is located in the developed world, but because they represent the front gates of hell.
January 28, 2020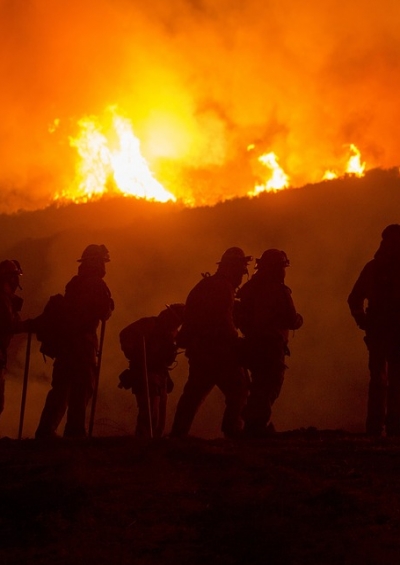 Using the term "biblical justice" in writing about global policy matters is a difficult, potentially treacherous concept. After all, the words are most commonly associated with the idea of "retributive justice" and typically understood in an Old Testament sense.
An all-knowing, yet enraged God is hurling down punishment onto individuals, or even an entire people, that have failed him badly. They deserve harsh punishment, not least because they have been amply forewarned about the profound errors of their ways.
Wrongdoers are presented with a bill
Removed from its religious context, the words "biblical justice" are used as a figure of speech for when somebody is finally facing the bill for very obvious wrongdoing – wrongdoing that is clear to everybody but, implicitly or explicitly, ardently denied by the perpetrator.
That is the mental frame one is inclined to use as a reference when looking at the image of the ghastly wild fires that have hit the southeastern Australian coastal area and that are clouding up the otherwise so beautiful Sydney skyline in a most dramatic and downright apocalyptic fashion.
In the context of the fires in Australia, one is understandably tempted to use "biblical justice" not so much as a fighting term to incriminate a nation, but as a clarion call to all of us about a key concept that will be pivotal in determining human futures.
"Global responsibility" actually means something
The words "global responsibility" are by no means an empty rhetorical shell used by soft-hearted do-gooders. That, of course, is how the underlying concept is always discredited by political forces that are hell-bent on the maximalist exploitation of natural resources.
It is precisely against the backdrop of those extreme cynics that the current fate of Australia is such a powerful prop. "Global responsibility" actually means something.
This is all the more applicable and acceptable in Australia's case. It is a very developed country and also the country with the second-highest level of per capita CO2 emissions in the world, ranking right behind Saudi Arabia.
Australia's cardinal "sin"
Australia's cardinal "sin," relentless coal exports into eastern Asia, has long been castigated as irresponsible.
These exports may feed the insatiable appetite of coal power plant managers primarily in Japan, China, South Korea and India. But, for all their gargantuan size, they actually earn the Australian government and tax payer very little money beyond mining license fees.
As if to inoculate himself, Scott Morrison, the country's current, pro-coal prime minister, is engaging in all sorts of twists and turns to sidestep any, even remote acknowledgement of a connection between the fires and the coal exports.
A powerful symbol
Of course, there is no direct linkage between the coal exports and the fires. But indirectly the fires in Australia are the most vivid testimony about what is meant when environmentalists argue that, to keep climate change in check, it is key to keep as many carbons as possible buried in the ground.
That same Australian government now has to expend a lot of public money to fight the current fires. And many of the people who voted for that government will find that over the course of this century their homes, often their primary asset, will become ever less insurable. This is due to the effects that climate change hurls down on Australia.
The fires clouding up Sydney are a most powerful reminder of our national as well as collective responsibility to deal with climate change and adjust our behavioral patterns and especially our preferred political alliances accordingly.
The COP25 connection
That the fires in Australia are blasting so powerfully at the very time when this year's UN Climate Change Conference (COP 25) was held in Madrid is sheer coincidence, but certainly adds to the overall equation.
While most people around the world simply ignore the annual conference, others seek very actively to dismiss its relevance altogether.
Of course, there are also the activists and the policymakers who are dedicated to fighting for the cause. But even in the contest between activists and policymakers, to this day it is often equivocation and formulaic compromises that end up having the upper hand.
Under those contested circumstances, the smoke-filled Sydney skyline is an indelible reminder to audiences globally, which will definitely find its place in human memory.
Not, as some may reflexively surmise, because it is in the developed world, but because the imagery pretty much represents the front gates of hell.
Fear of our own extinction
That is why the case of the Australian fires is so universally relevant. It taps directly into every human's fear of extinction. That is about as existential as it gets.
In the annals of the fight for climate action, the images from Australia's wild fires – so raw, so dramatic – will come to be known as one of the most dramatic appeals to rely on human reason and responsiveness. We won't get many more.
More on this topic