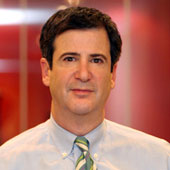 Chairman, Sonecon LLC
Robert J. Shapiro is co-founder and chairman of Sonecon, LLC, a private firm that advises U.S. and foreign businesses, governments and non-profit organizations.
From 1998 to 2001, he served as Under Secretary at the U.S. Department of Commerce from 1998 to 2001. He was the vice president of the Progressive Policy Institute, an organization he co-founded in 1989.
He was Bill Clinton's principal economic advisor during the 1991-92 presidential campaign and a senior economic advisor to Barack Obama, Al Gore and John Kerry during their campaigns.
Mr. Shapiro also served as legislative director for U.S. Senator Daniel Patrick Moynihan, associate editor of U.S. News & World Report, and an economics columnist for Slate magazine.
He also is currently a Senior Fellow of the McDonough School of Business at Georgetown University and adviser to the IMF.
He also chairs the Globalization Initiative at NDN, a Washington think tan, and co-chairs the American Task Force Argentina, an organization that encourages the Argentine government to reach a favorable settlement with foreign bondholders arising out of Argentina's 2001 debt default and subsequent restructuring.
He holds a Ph.D. from Harvard University and lives in Washington, D.C.