Doubling Down on Wind: Ireland Greens Its Grid, Looks to Export
Will Ireland become a global hub of innovation in the management of renewable power?
June 15, 2013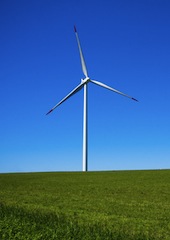 Credit: Jacek Chabraszewski/Shutterstock.com
The Russian cutoff of natural gas to Ukraine in January 2009 brought home to Ireland, as to the rest of Europe, the need to ensure greater security of energy supply and insulation from price shocks.
This imperative, combined with substantial wind resources, has made wind energy a pillar of Ireland's strategy to recover from the collapse of the Celtic Tiger.
Ireland already has one of the highest penetrations of wind power onto its grid in the world — now approaching 20% — and appears on track to meet its ambitious target of supplying fully 37% of its electricity from onshore wind by 2020.
This is more than ten times the current proportion of wind power supplied to the U.S. grid.
Ireland also sees wind energy as a major export opportunity.
With the UK falling short on progress toward its 2020 EU renewable energy targets, the Irish and British governments appear likely to agree, in early 2014, on a framework for the export of significant quantities of Irish wind power to the UK.
European Union 2020 Wind Power Targets vs. Current Capacity. The figures are based on the 2012 National Renewable Energy Action Plans. Map adapted from EirGrid. (Note: Denmark increased its wind target after publication.)
Successive Irish governments have supported onshore wind energy via a Renewable Energy Feed in Tariff (REFIT). This floor price has provided the stability needed to encourage companies to front the initial high capital costs of onshore wind turbines.
Costs to the Irish consumer have been modest. In fact, a 2011 Irish government study found that the cost to consumers of supporting onshore wind power from the monthly surcharge of electricity was fully offset by the lowering effect wind had on wholesale market prices.
The Irish experience is also noteworthy given the small size and isolation of Ireland's grid. A large, interconnected grid would actually make it far easier to balance out the variability inherent in wind (or solar power for that matter).
Denmark, for example, has achieved impressive levels of wind penetration, but its grid is highly integrated with that of its neighbors.
Thus, that EirGrid, the Irish grid operator, is now able to accommodate peak instances of wind penetration of up to 50% of electricity demand has resonance beyond Ireland.
Daily average wind penetration levels of 30-40% on the grid have become common. With an eye on 2020 EU targets, EirGrid is developing systems to ensure that the Irish grid can handle spikes of up to 75% of total electricity coming from wind.
Investment in a smarter, more flexible grid is critical to achieving this goal.
EirGrid is in the midst of a 3.2 billion euro upgrade under its "Grid 25" program.
Modernization was needed in any case, but the improvements are being structured specifically to enable the electricity system to handle ever-larger volumes of "intermittent" sources, such as wind or solar.
In the past, one of the criticisms of wind power has been that its generation cycles are not reliable in the way that coal power and nuclear power are, because the wind is not constant. Solving this problem will make wind energy more cost-effective.
Imported natural gas still provides most Irish power, but serves as a compatible partner to wind.
Newer generation gas turbines are able to ramp up more efficiently and quickly to balance wind's intermittency.
Combined, the electricity supply is greener but still stable.
Irish grid operators are convinced that the techniques they are developing for managing the variability of wind power can be scaled up to larger systems in Europe, the United States and elsewhere.
Indeed, Ireland aspires to be a global center of excellence in the management of intermittent power. EirGrid is promoting the Irish grid as a real-world laboratory for new technologies and management techniques.
Ireland's ambitions for innovation are helped by the fact that it is the European headquarters for most leading IT firms, including Google, Intel and IBM. The Irish government has made it a priority to marry this IT skill-base to the energy sector.
The Irish Energy Supply Board (ESB) has conducted a smart metering trial involving several thousand Irish homes and is preparing to roll out a nationwide smart metering system to over two million households.
Customers will then have real-time information to enable them to defer running appliances to lower cost, non-peak periods. This would add to the flexibility of the electrical system, helping alleviate some of the effects of wind's variability.
Ireland has some of the best wind energy resources on the planet — many times what it can use itself.
Unlike the UK, Ireland still has substantial untapped onshore wind potential.
With production of onshore wind electricity about half as costly as offshore wind, Irish export of wind energy to the UK represents a win-win.
Ireland can reap the benefits of construction and royalties from new wind farms in its less populated and economically depressed midlands, while British consumers can obtain clean electricity — needed to fulfill EU commitments — at less cost than developing UK offshore wind.
If commercial proposals currently on the table move forward, Ireland could be in the unique position of exporting the equivalent of 100% of its peak electricity demand (about 5000 megawatts) to the UK by 2020.
The prospect of such close Irish-UK collaboration comes at a time of arguably the best bilateral political relationship since the founding of the Irish state.
Cooperation on the electricity front has already served to break down barriers between the Republic and Northern Ireland, which formed an All Island electricity system in 2007.
It also serves to demonstrate that EU integration takes many forms — and extends far beyond the banking and financial sectors.
In the longer term, Ireland's greatest wind resources lie, untapped, off its Western shores.
The next decade could offer Ireland the opportunity to exploit these resources as part of a Northern European super grid, involving construction of an array of offshore wind farms.
And onshore innovations and grid improvements now will make later offshore development that much more successful.
Ireland's irrepressible wind — "the wind that shakes the barley" — turns out to be not a nuisance but a blessing: Improving security of energy supply, diminishing carbon emissions, saving foreign exchange and creating jobs.
The ultimate significance of the Irish experiment may, however, lie in its demonstration to others that the integration of unprecedented levels of wind power on the grid can be done — and done economically.
Editor's note: The views expressed in this article are those of the author and do not necessarily reflect the views of the U.S. Department of State or the U.S. Government.
More on this topic
Read previous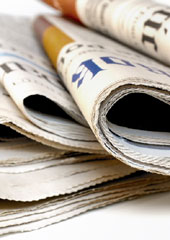 Press Freedom in the G-20
June 14, 2013