Ebola: America, Stay Calm and Carry On
How America's knee-jerk response to Ebola is hurting West Africa.
November 4, 2014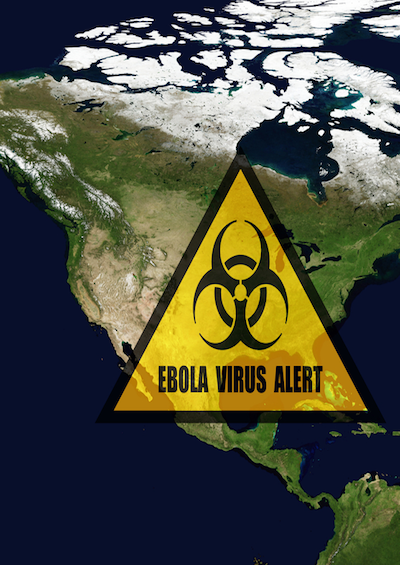 Credit: Martin Capek Shutterstock.com
My country of birth – Sierra Leone – is much in the news these days. As a Sierra Leonean immigrant who has lived here in the United States for the past couple of decades, I am puzzled by the knee-jerk approach America has taken on Ebola.
The response is characterized by fear, mistrust and misinformation. And that is hurting efforts to eradicate the horrible killer disease in West Africa.
America's credibility
From turning a cruise ship from the Caribbean back for fear of Ebola contamination to state authorities' detaining a health worker at a Newark, New Jersey, airport in a tent in squalid conditions by state authorities, the United States of America is sending out a most confusing message: While the United States is good at helping people in crisis in other parts of the world, it is evidently not able to handle its own medical crisis calmly and cogently.
It is a not just a case of too many "cooks" – but of too many cooks who are winging it. The lack of disaster preparedness at home is hurting the country's credibility overseas.
The case of Kaci Hickox, the Doctors Without Borders nurse who returned to the United States after helping Ebola patients in Sierra Leone, clearly demonstrates what happens when politicians give in to fear instead of facts.
After travelling nearly 20 hours from Freetown, Sierra Leone, to Newark, New Jersey, the 33-year old nurse was kept in a tent outside the airport – with no air conditioning, heat or indoor plumbing for three days.
When New Jersey authorities finally released her, with no fever or other symptoms of Ebola, authorities in Maine – where Kaci lives – barred her from going out, stationing a trooper outside her house. Her case is still in court at the time of writing.
The facts, please
As everybody knows by now – and has been understood in far-away Nigeria, a developing country that made effective use of Twitter and other social media to get the message out (and Ebola stopped in its tracks) – Ebola is not an airborne disease.
People do not get infected with the Ebola virus simply by being near a sick person or someone who recently returned from West Africa.
It is important to highlight that all the people who had come into contact with Thomas Duncan, the only person who has died from Ebola in the United States, were released from quarantine without developing Ebola. This included his girlfriend.
Only two out of all the people Mr. Duncan had contact with became ill and both of them have been discharged from hospital.
All the people who contacted Ebola in West Africa and returned to the United States have either been healed or are on the verge of being discharged from the hospital.
However, none of these facts matter to the agents of fear and panic who fill the airwaves with venom about the disease and accuse President Obama of not acting enough.
The most appalling twist to the Ebola debate is how some politicians have used it to garner votes for the mid-term elections.
Just ban the West Africans!
Many conservative radio and TV talk show hosts have constantly used fear and innuendo to cause panic among voters. They argue that people from West Africa should be banned from coming to the United States.
The only problem with that argument is that many West Africans have United States passports and can therefore not be banned from returning to the United States.
Even President Obama has given in to the political pressure by appointing Ron Klain as the Ebola Response Coordinator, often dubbed Ebola Czar in Washington jargon.
As health experts have constantly advised, the only way to stop Ebola from threatening the United States and other countries around the world is for the disease to be eradicated in Liberia, Sierra Leone and Guinea.
The U.S. army is now in Liberia, providing logistics and support to health workers so they can isolate and treat the sick. The British and other European nations are in neighboring Sierra Leone helping to set up treatment centers, while the French are taking the lead in Guinea.
These efforts are bound to reduce the rate of infections soon. Eventually, these coordinated actions will end the terrible ordeal that has devastated the three countries.
For the time being, the people of West Africa still need a lot of help as hundreds still get Ebola every day. More health workers are needed to help curb Ebola, and detaining returning health workers only has one predictable result: It will not help eradicate Ebola.
Takeaways
Read previous

Obama's Scorecard
November 4, 2014