Gelato Vs. Ice Cream? No Contest
A recipe for no-churn honeycomb ice cream.
August 20, 2023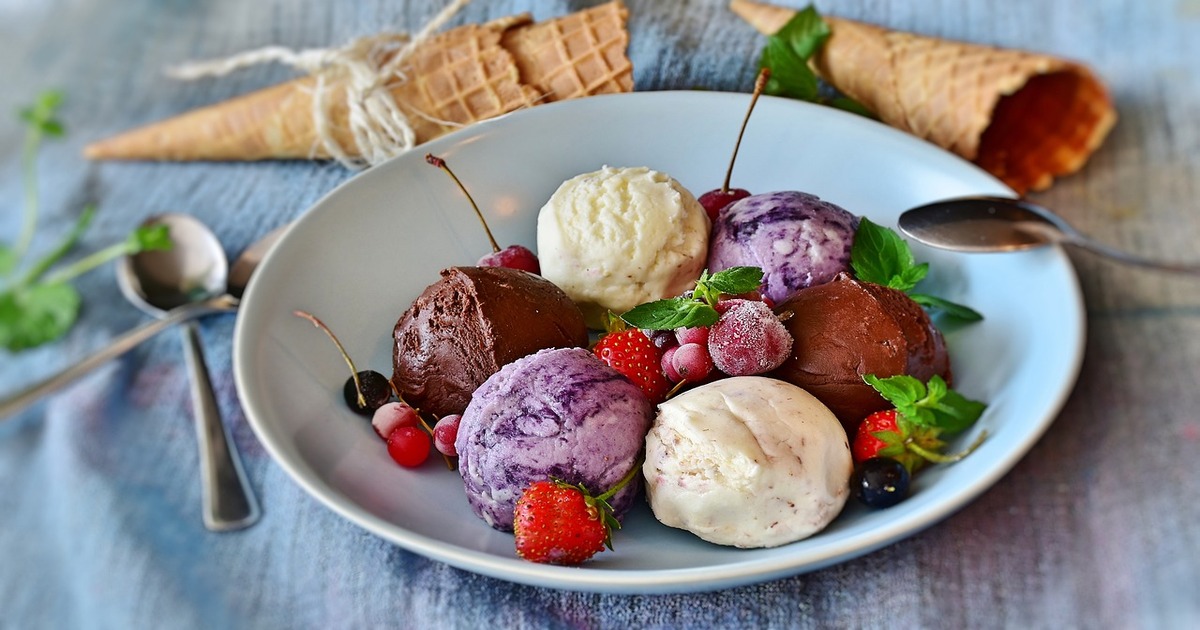 In Sicily a few summers ago, I sat with a partner in the crime of greed at the base of the marbled slope that leads to Modeca's exuberant baroque cathedral. We were slurping our gelati of that day.
Adventurous and curious eaters both, in her case it was a wine-flavored ice cream (and there were several choices of grape varieties). In my case it, was extra virgin olive oil. Both gelati were an ice cream mistake.
Ice cream and ice cream
While gelato is the Italian word for ice cream, there is a difference between them. Ice cream has a higher fat content and contains more cream than milk. Gelato is made with more whole milk than cream and generally without eggs, while ice cream usually contains egg yolks.
Ice cream is churned at a faster rate than gelato, whipping into the mix as much as 50% air, while gelato, churned at a lower speed, has a denser consistency than ice cream – at only 25-30% air.
I was carousing that week in Naples courtesy of my generous sister. It is a city of rhum babas, sflogliatelli, tarelli, great beauty and greatly humorous bar owners, where every local lingers in quiet side streets unexplored by tourists over affordable feasts of traditional local dishes and jugs of exhilarating wines you won't find in your favourite vintner – I stuck to less provocative frozen flavors.
Strictly in the interest of research, we guzzled two scoops of ice cream daily – from dark chocolate fondant with bitter orange, to lemon cream and a scoop of espresso to my coppa below of salted almond and ricotta mousse with a sorbet of maracuja.
And she would have fior di latte – historically the original ice cream – with pistachio (pronounced "pistackio" just as bruschetta is pronounced "brusketta").
The origins of ice cream
The origins of ice cream are as slippery as the frozen dessert. It may have originated in Persia around 550 BC, when ice houses were popular among the wealthy.
In the first European collection of recipes of the Roman gourmet, Apicius, produced in the first century AD, there are recipes for desserts sprinkled with snow.
In China's Tang Empire, ruling from 618 to 907 AD, there are records of chilled desserts made with flour, camphor and chilled water-buffalo milk, while kakigōri is a Japanese dessert made with shaved ice and flavored syrup dating from the Heian period – 794 to 1185 AD.
13th century Syrian physician Ibn Abi Usaybi'a writes on the process for making ice artificially in his historical encyclopaedia of notable Greek, Roman and Indian physicians of the Islamic era up to 1252 AD.
Sicily's Arab population, which dominated the island in the ninth century, used snow from Mount Etna to freeze their distilled fruit sherbet drinks – early precursors of sorbet.
Enter the Renaissance
But it wasn't until the Renaissance that creamy ice cream with milk and egg whites added to ice, sugar and lemon was invented by alchemist Cosimo Rugieri in 1565 at the court of Catherine de' Medici in Florence as part of a courtly cooking contest.
That is one legend, anyway. There are so many of them, several including not surprisingly Marco Polo, that promoter of so many foods now challenged as having been introduced by this seafaring nomad.
The thing is, regarding Catherine de' Medici, there were not any Italian chefs recorded at the French court during the Medici period. And ice cream is already on record in France before Catherine de' Medici was born.
Another legend has it that one hundred years later, Charles I of England offered a lifetime pension to anyone ready to keep the creation of "frozen snow" secret so that ice cream would only be available to royals.
I love legends, especially when I am licking an ice cream while reading what amounts to not much more than historical gossip. But too much gelato could lead to a need for one of these.
The game changer: Salt
Set aside who invented it, the game changer in the creation of gelato was the discovery of salt's effect on the freezing temperature of ice. Before the 16th century, freezing wasn't a process known to Europeans.
Reference began to be made to its effect only after that. Only in the latter part of the 17th century were ice creams and sorbets made using it.
The next leap forward is owed, again, to Sicily. In 1686, Sicilian lemonade maker and cook Francesco Procopio dei Coltelli of Aci Trezza created the perfect mix with a gadget given to him by his grandfather which allowed sorbets to be made by machine.
It gave him the incentive to move to Paris at the time of the court of Louis XIV, the Sun King, where he opened the historic Café Procope. Patronised by Voltaire, Balzac, Hugo, Robespierre, Diderot, Napoleon, Benjamin Franklin and more, it is still open today.
Another Italian, Giovanni Bosio, opened the first ice cream parlor in New York in the late 1700s. But it was an American woman, Nancy Johnson, who, in 1843, invented a device that sped up the production of commercial ice cream.
It was a tub cranked by a handle with a wooden bucket inside containing crushed ice. A tin nestled in the ice into which was poured the ice cream mixture.
How to make ice cream
It is still the case that if you are making a classic cream or yolk-based ice cream at home, you will need an ice cream machine or else no matter how often you withdraw it from the freezer to beat it back to creaminess, your ice cream will crunch with ice crystals.
This, however, is an absolutely fool proof ice cream that needs no machine or churning. If you bypass the honeycomb instructions and only make the base, you can create a Ben & Jerry-style ice cream with various chunks added to it.
It includes broken cookies, chocolate chips, chopped strawberries, raspberries, toasted nuts, basically whatever takes your imagination on a ride. But if using fruit, leave out the vanilla extract and do not squish them up or the juice will crystalize.
Honeycomb ice cream with apricot tart (serves 8)
5 tablespoons sugar
2 tablespoons Golden Syrup – honey can substitute
1 heaped teaspoon bicarbonate of soda
600ml/20 fl oz double/whipping cream
Half a 397g/14 fl oz can sweetened condensed milk
For the honeycomb
Melt the sugar and golden syrup together in a non-stick pan over medium heat until amber in colour. Turn off the heat, add the bicarbonate of soda and stir quickly with a spatula.
It will foam at speed up the pan. Pour the contents onto a lightly oiled baking sheet and leave to harden and cool, then bash lightly into irregular pieces with a rolling pin.
For the ice cream
Whisk the cream until thick but floppy. Fold in the condensed milk and then the honeycomb pieces and crumbs. Pour into a bowl and freeze. Remove from the freezer half an hour before serving.
More on this topic