Italy: Lawyers Numerous, Justice Scarce
Italy has four times more layers than France, despite its similar size.
November 28, 2013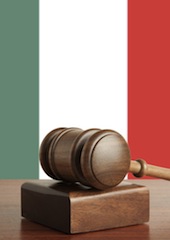 Credit: Andrey Burmakin - Shutterstock.com
1. In the World Bank's 2013 global ease of doing business survey, Italy ranked 160th out of 185 countries.
2. Italy's justice system takes about 1,210 days to resolve a commercial dispute.
3. Italy has a backlog of civil lawsuits of about 5 million cases. That number is increasing by 10% a year.
4. Italy has 240,000 lawyers – well over four times more than France at 54,000.
5. Lawyers also make up more than 10% of the members of Italy's parliament.
From Italy's powerful lobbies flex their muscles by Guy Dinmore (Financial Times)
More on this topic