Japan: From Abenomics to Abeggedon
Japan's lack of political circumspection has economic consequences.
November 26, 2014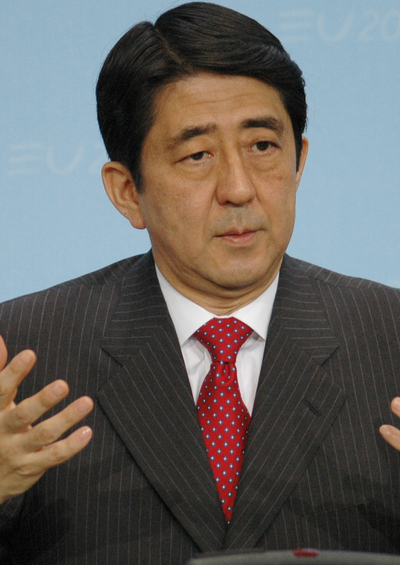 Prime Minister Shinzo Abe
This is a tale of two countries. One of them features two decades of fundamentally misguided policies. The other has an ambitious strategy for reform and development on which it is advancing with one purposeful step after another.
▪ Also: The Globalist's
The first is Japan, while China is the other. Those that are confounded by this result are quick to raise doubts about China's path. They argue that China will stumble at some point.
Will it stumble? Yes, inevitably. Perhaps even stumble badly. It has in the past. But that is not the issue. It never is.
What counts is not the fact that a country stumbles from time to time, but how it manages to pick itself up after the fall. And how honestly it works to understand why it stumbled – and then proves ready to adjust its strategy as a result.
Ideally, after its stumble, the country in question gains a new sense of realism, so that it can move ahead with renewed focus and determination to create a better future.
Japan was a remarkable success story from the mid-1950s, after it picked itself up from the calamity of having launched war against all sides of the Asia Pacific. That success lasted through the late 1980s, when the country's economy and financial markets crashed.
Unfortunately, Japan has never recovered from this crash. After the Japan bubble popped almost 25 years ago, the country has never managed to pick itself up. That is largely a result of failed leadership.
The role of leadership is to represent a better future – and then to chart the course to building that better future. Japan has had a succession of governments with no vision of where to lead the country, including the current one. One after the other, they have rather sadly continued to dig the country's economy deeper and deeper into a hole.
The Abe government, despite its well-advertised determination to jazz up the Japanese economy, seems to be either unable or unwilling to stop digging.
In addition, it is has seriously messed up its relations with virtually all of its neighbors. That lack of political circumspection has economic consequences. The countries in question just happen to be among today's fastest-growing economies – and Japan should be doing everything it can to embrace them, not alienate them.
Japan's voters have noticed. The latest polls show that support for the Abe government now stands at 36%, the lowest recorded level since the December 2012 elections.
With the drop in their public opinion support accelerating, the Abe team has launched completely unnecessary snap elections for mid-December. Their idea is to have another popular vote before still more bad news now in the pipeline hits the electorate. Some are already calling this maneuver an "electoral coup."
More on this topic