Latin America's Real Corruption Crisis
The outflows of illicit cash from Latin America are a staggering tax on its citizens.
March 27, 2015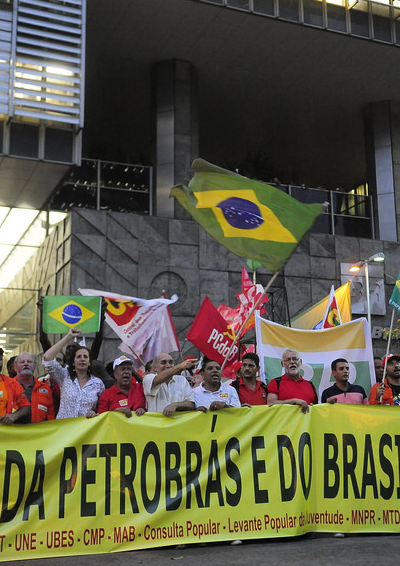 Credit: Agência Brasil Fotografias - www.flickr.com
The leaders of major Latin American countries – Argentina, Brazil. Chile and Mexico – are enmeshed in scandals.
Mexican president Enrique Pena Nieto could have been speaking for the whole continent, not just his own country, when he stated in a recent interview, "Today there is, without doubt, a sensation of incredulity and distrust…there has been a loss of confidence and this has sown suspicion and doubt."
Corruption is nothing new to Latin America. To be sure, the plethora of current prominent scandals is setting some new records. But public distrust has increased to no small degree by the growing understanding that the seemingly endless corruption is directly causing enormous economic problems for almost all citizens.
According to estimates by the Institute of International Finance, real economic growth in the region was an estimated 0.4% for 2014. The IIF forecasts that it will be a scant 0.2% in 2015.
And, in the midst of this virtual economic stagnation, the region is being drained on a massive scale of "dirty" cash, flowing overseas to be laundered on behalf of Latin American tax evaders, criminal networks, and corrupt politicians and public officials.
Meanwhile, according to Global Financial Integrity, illicit financial flows out of Latin America are running at around an annual 3% of GDP.
This is probably a conservative estimate, because it is largely based on analysis of official trade and balance of payments statistics, which cannot capture illicit funds from all criminal organizations.
Taking its toll
Given those numbers, just imagine how different public attitudes might be if all that stolen cash, resulting from corruption and crime and fleeing the continent, were not the spoils of thievery — but were instead legitimately invested in new jobs and the domestic economies of Latin America.
The outflows of illicit cash from the region are a staggering tax on its citizens. They are now taking a continent from the road of stable and rising real economic growth to stagnation.
There is nothing new about the scale of the illicit outflows, but for much of the last dozen years, they were seen against the background of strong Latin American growth. This was a period, for example, when the percentage of very poor people in Latin America fell from 42% to 25%.
But today, governments in many countries are under siege as a direct result of scandals, and their economic policies seem uncertain, while slowing world economic growth is adding to difficulties.
The economy of the largest country in the region, Brazil, is, as The Economist magazine reported in early March, "in its worst mess since the early 1990s." Indeed, the current corruption scandal surrounding Petrobrasis the largest in the country's history.
It is totally diverting the attention of the Brazilian government and parliament from addressing the formidable economic challenges that the country now confronts. Moreover, over $50 billion in Petrobras's stock market value has been lost over the last six months because of the scandal, which in turn has had a major negative impact on the overall Brazilian stock exchange
Petrobras, the mostly state-owned largest corporation in Brazil, illustrates part of the broader problem in many Latin American countries of close corrupt relationships between major enterprises, corporate executives, and powerful politicians and the political parties. For many years, top executives of the company took large kickbacks from domestic and foreign companies in return for allocating major contracts.
Based on information from former Petrobras executives, public prosecutors are now firing on all cylinders as they file arrest warrants on a wholesale scale. In mid-March, the treasurer of the ruling Workers' Party and 26 others were formally charged with corruption.
The leaders of both the upper and lower houses of parliament are being investigated. So far, President Dilma Rousseff, who a few years ago served as the board chairman of Petrobras, is not on the investigation list. However, hundreds of thousands of Brazilians took to the streets a few days ago to protest and call for her impeachment.
The kickbacks from domestic and foreign companies at Petrobrasand at its affiliates, went into the pockets of the Petrobras officials, as well as into the hands of prominent politicians and political party campaign funds. Many of the bribes were paid into secret Swiss bank accounts.
Corruption is everywhere
In Mexico, both president Nieto and Finance Minister Luis Videgaray are now under investigation for having bought grand homes for allegedly very low prices from business people who have won lucrative government contracts.
In Chile, President Michelle Bachelet is under fire, not only because her son has allegedly obtained major funding from firms allegedly involved in government deals, but also because one of the country's largest ever political corruption scandals is unfolding, which involves major financial institutions and several key government ministries.
Not to be undone, Argentina's president Christina Kirchner is besieged by scandals, ranging from allegations that she has vastly enriched herself while in office, to allegedly being involved in the murder of a prominent lawyer.
Another aspect of the problem involves organized crime. For example, my colleagues at Transparency International – Colombia note that at the core of the country's corruption is state capture by illegal actors.
I was told that some of the biggest corruption involves secret payments by multinational oil and mining companies to local authorities and the guerrilla groups to ensure their basic security as well.
GFI develops its data from official statistics, mostly on the balance of payments, and it may understate the true volume of illicit financial flows by not entirely capturing the cash of organized crime.
What is very clear is that the huge amount of illicit flows from the region is massively undermining trade and commerce and making it extraordinarily difficult for honest business people to compete.
How the money flows
Raymond Baker, GFI's founder and president, told me recently that, "Misinvoicing – the deliberate misrepresentation of the value of goods being shipped – is not a source of black money; it is the mechanism through which black money leaves a country.
Recent data show that on average (on a global basis), close to 80% of all cross-border illicit flows move through this method."
GFI's research suggests that the Latin American countries that suffer the greatest impact in this regard are Mexico and Brazil.
Corrupt politicians, officials, their business partners and gangsters all seek to transfer their ill-gotten gains into solid investments in major foreign business centers, where the real ownership of the assets is totally secret.
Much of the illicit financial outflows from Latin America undoubtedly find their way into fine art, blue chip corporate stocks and ritzy apartments and mansions in Miami and in New York.
The corrupt employ armies of lawyers, consultants, accountants and bankers to create foreign holding companies registered in places like the British Virgin Islands where no questions are asked about the origin of the wealth.
These shell companies hide the true beneficial owners of the assets and are used as the investment vehicles to launder the illicit cash.
Pressure is mounting, but is it enough?
The only good news is that pressures are mounting on banks from public prosecutors and bank regulatory authorities to end the secrecy that enables the corrupt to park their cash far from the location of their crimes.
In January 2013, HSBC, one of the world's largest banks, agreed to pay a $1.92 billion fine to U.S. authorities for allegedly laundering Mexican drug cartel money into the United States.
This case has served to encourage greater investigations of major global banks and the effort has now been given a boost by the very high profile disclosure of 100,000 secret accounts at HSBC's private bank in Geneva, as reported by the International Consortium of Investigative Journalists.
Rarely before have so many political leaders in Latin America been as low in the popularity opinion polls as today. Corruption scandals are taking a far heavier toll than in the past it seems. The major cause for this is the painfully evident ties between corruption and stagnant economic growth.
But, important, the current mood has been sharpened by courageous journalists and judges: the former have exposed corruption cases with great zeal, while the latter are showing exceptional courage by confronting political establishments.
More on this topic