London-grad: British Capital Under Russian Influence
Britain looks to move away from Russia, but London stands in the way.
August 11, 2014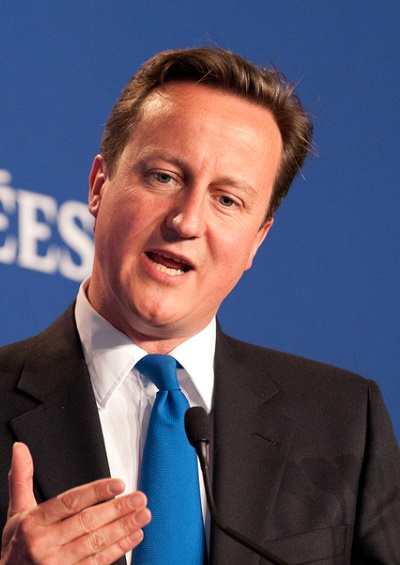 "Hand Back the Roubles, Dave" screamed the front-page headline of the Daily Mail, Britain's best-selling middle class tabloid. It was a reference to the oddest tennis game ever in England – and a matter of concern to Prime Minister David Cameron. He needs the Daily Mail's readers to vote Tory — if he is to win a second term in 2015.
What had happened? At a Conservative Party fund-raiser, Mr. Cameron had offered to play a doubles match, partnered by his rival Boris Johnson. That enticing offer was taken up by the wife of a Russian oligarch and former Putin minister. Mrs. Lubov Chernukhin paid $250,000 (£160,000) for the privilege.
The problem for Cameron was that he took the Russian money and agreed to the tennis game just a few weeks before Russian rockets downed the Malaysian airliner over East Ukraine. Ten British citizens were among the victims.
The Daily Mail is angered by the fact that Cameron and his party are hanging on to the $250,000, as they build up a war chest for the general election to be held in May 2015. Opinion polls are still giving the victory narrowly to the Labour Party, currently in opposition.
London for sale – to Russians
The episode is part of the decade long love affair between the Conservative Party and Vladimir Putin.
Perhaps the most amazing consequence of this romance is that the British capital is now known as Londongrad. Many Brits do not like the fact that their capital city has become the city of choice for oligarchs. It is a place where Russian money has bought political influence openly and crudely.
Even Vladimir Putin mocks London as the place where "the oligarchs have bought Chelsea," a reference to Roman Abamovich, the owner of the top soccer club. Another oligarch, Evgeny Lebvedev, is the owner of two key newspapers, the Independent, and the respected London Evening Standard, as well as a London TV station.
One in ten of all London homes with a price exceeding $1.5 million was bought by a Russian last year. Mrs. Chernukin and her husband, Vladimir, a former director of Aeroflot, live in a $12 million dollar apartment.
Another Russian donor to the Conservative Party, Andrei Borodin, has fled to London after accusations of a $370 million fraud in Russia. He lives on a $235 million estate near London and paid $67,000 for a portrait of Margaret Thatcher at a Tory fundraiser last year.
The UK Electoral Commission reports $1.5 million in donations from rich Russians to Conservative funds last year. The UK has given visas to 433 Russians since 2008 who invested more than $1.5 million in Britain.
Russians send their children to be educated in elite private boarding schools. The daughter of the Russian foreign minister, Sergei Lavrov, is a student at the London School of Economics.
Like Putin's daughters who live outside Russia, the Russian elites have no confidence in their own society. They are adamant about making sure that their offspring can live outside the reach of Russia's security firms and secret police.
London courts are also where Russian oligarchs fight out their legal battles. London lawyers earned an estimated $150 million from just one court fight between Roman Abramovich and Boris Berezovsky. Lawyers say that 60% of all the cases now heard by London senior commercial courts are linked to disputes over spoils from the ex-Soviet Union.
Another attractive legal market is divorce fights. Londoners have gaped at the fierce legal fallout as elderly Russian oligarchs trade in their wives for slimmer, younger beauties.
For all the Russians' strong embrace of British law in these various circumstances, none of this has prevented Putin's agents from turning up in London to silence, quite literally and for good, those deemed enemies of the Russian state.
The most notorious is the Alexander Litvinenko case. The former FSB agent was poisoned by polonium poured into his tea by two Russians in 2006. British police have named their chief suspect, Andrey Lugovy, and asked Moscow for his extradition.
Not very principled
True to his character, which is rooted in oppositional defiance, Putin's response was to put Lugovy in the Duma, Russia's lower house of parliament. There, he is protected by parliamentary immunity, in addition to the fact that the two countries have no extradition agreement.
Under constant pressure from the press and MPs, Mr. Cameron and his recently fired Foreign Secretary, William Hague, have had to raise the Litvinenko assassination with Putin. But they have done their best to slow walk any investigations.
After the annexation of Crimea, one of Cameron's top Foreign Office advisers went into Downing Street carrying a position paper which was caught by long-range cameras. It said Britain "should not, for now, support trade sanctions."
No wonder a New York Times op-ed by Ben Judah argued that "Britain is ready to betray the United States to protect the City of London's hold on dirty Russian money." The accusation that a Conservative government would "betray" Washington was frank — and it hurt.
Britain faces serious economic fall-out if Russia decides once and for all it does not like London. Oligarchs can relocate to Switzerland, conveniently outside the European Union, or to Dubai.
But since the Swiss go to bed at 10 p.m. every night and the maximum bet that can be placed outside big city casinos is just $25, the country is not much of an attraction for, shall we say, the vulgar end of the Russian nouveau-riche. They find London so much more attractive.
The British establishment, having hitched its fortunes uncomfortably closely to Russia's, has other reasons to be concerned about a possible fallout for the UK if strife with Russia continues.
Britain's flagship oil firm BP has a 20% stake in Rosneft, the Russian company which the Putinites set up to take over Yukos' assets. Rosneft has had a $50 billion fine slapped on it by an international arbitration court in the Hague over its seizure of Yukos' assets.
Why would that be a headache for Cameron? Here is why: BP dividends pay 15% of all income going into UK pension schemes and Rosneft's financial obligations diminish key financial flows to BP.
Joined at the hip
British commoners are only slowly becoming aware of how closely their country's elites are joined at the hip to big Russian money.
But the loss of income to lawyers, real estate agents, luxury goods providers, private schools and top-end universities is enormous, if Russia continues to be sanctioned.
Scores of retired British ministers, serving parliamentarians, royal household courtiers and even the Queen's cousin, Prince Michael of Kent, have served as board directors or consultants pocketing large sums from Russian oligarchs.
No wonder that Mr. Cameron, who is otherwise so quick to talk principled and advocate a principled course of action, has refused to take any action that might hurt the Kremlin.
True to form, Cameron has attacked the French decision to sell a Mistral class helicopter ship to Russia, a deal negotiated by Nicolas Sarkozy when president of France.
But a House of Commons committee recently revealed that the UK has 285 arms contracts with Russia worth more than $200 million. That makes Cameron's criticism of France completely hypocritical.
Fraternizing with the Russians
Another astonishing symbol of the degree to which the British Conservative Party is willing to fraternize with the Russians is in the Council of Europe. It has 47 member states, including Russia.
Hard though it may be to believe, British Conservative MPs formed a joint political group with the Putin-controlled Russian Duma deputies in the Council's parliamentary assembly.
Instead of working with other center-right European parties like Angela Merkel's CDU, Cameron and the Conservative Party preferred to align themselves with Russia.
How did Cameron get away with that, you wonder? Questions were raised in London about these Putin-Tory links, but issues of international affiliation among political parties are too esoteric for the average UK political reporter to worry about.
It only became a story when Cameron, wising up at long last, abruptly ordered his Conservative MPs to break away from the Russians after the annexation of Crimea.
Like Neville Chamberlain in the 1930s who only woke up to just what authoritarian politics entailed after years of appeasement, Cameron has not known how to deal with Putin or even understand what Putin represents.
To be sure, in recent months, circumstances have changed considerably, whether due to the annexation of sovereign territory of a European state or seeing innocent British lives lost thanks to a Putin-supplied missile.
The resulting fury is changing Britain's views about Russia. Cameron understands this, as he is no fool.
But taking the Grad out of Londongrad is not easy. Meanwhile, Britain's prime minister continues to train for a tennis match to justify the payment of $250,000 from a dubious Russian oligarch to Conservative Party funds.
Vital lessons about principles and sheer decency still need to be learned.
More on this topic
Takeaways